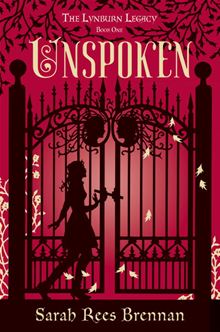 Unspoken
By Sarah Rees Brennan Source
Purchased
Published by
Random House Books for Young Readers
on September 11, 2012
Rating:

Kami Glass loves someone she's never met... a boy she's talked to in her head ever since she was born. She wasn't silent about her imaginary friend during her childhood, and is thus a bit of an outsider in her sleepy English town of Sorry-in-the-Vale. Still, Kami hasn't suffered too much from not fitting in. She has a best friend, runs the school newspaper, and is only occasionally caught talking to herself. Her life is in order, just the way she likes it, despite the voice in her head.

But all that changes when the Lynburns return.

The Lynburn family has owned the spectacular and sinister manor that overlooks Sorry-in-the-Vale for centuries. The mysterious twin sisters who abandoned their ancestral home a generation ago are back, along with their teenage sons, Jared and Ash, one of whom is eerily familiar to Kami. Kami is not one to shy away from the unknown—in fact, she's determined to find answers for all the questions Sorry-in-the-Vale is suddenly posing. Who is responsible for the bloody deeds in the depths of the woods? What is her own mother hiding? And now that her imaginary friend has become a real boy, does she still love him? Does she hate him? Can she trust him?
I've heard a lot of great things about this book and really wanted to read it.
I loved this book! It was so much fun. Kami lives in a small town, Sorry-in-the-Vale, and has spoken to Jared, the voice in her head, for her entire life. When Kami was a child, everyone thought Jared was just an imaginary friend, but as she grew up, people began to see her as strange. Kami can deal with that, though – she has her best friend, Angela, and her school paper.
Soon, Kami hears that the Lynburns – the family who seemed to rule Sorry-in-the-Vale for as long as people can remember and then disappeared – have returned. At the same time, strange things begin happening in the town, escalating to murder. Kami is determined to investigate and get to the bottom of it all.
I loved the characters. Kami was smart, funny, independent, and sassy. In fact, all of the characters were smart, funny, and independent, and I cared about all of them.
The mystery was well done, and I loved the way Kami was able to get her group together to investigate. I loved scenes where they were all together. Sometimes I find that books with multiple characters can struggle to define and differentiate them all, but in this book, Kami and her friends all seemed to have clear, separate personalities.
This book was funny and quirky and not at all like anything else I've read before. It was refreshing to read something that felt different and fun (despite the drama). There is a  magical/paranormal element to this book, which I really enjoyed, and which definitely contributed to the book's spooky atmosphere.
I loved the way everything balanced: romance, mystery, humour – it was a perfect blend for me. I wish I could find more stories like this! I especially loved that there was some romance but that it wasn't the most important aspect of the book, and that there was no insta-love. The connection between Jared and Kami was really interesting, and as the book progressed, it became clear that it meant something different to each of them.
The ending was a bit of a cliff-hanger, as some immediate plot aspects were wrapped up but others were left unresolved. That's kind of a pet peeve of mine, but I loved everything else about this book and will certainly be reading the sequel, so I'm willing to overlook that.
For its humour, great characters, and sheer fun, this is definitely a recommended read!