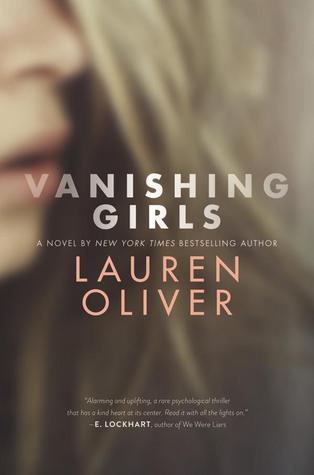 Vanishing Girls
By Lauren Oliver Source
Received from the publisher via Edelweiss
Published by
Harper Collins
on March 10, 2015
Received from the publisher via Edelweiss in exchange for an honest review. This does not affect my opinion of the book or the content of my review.
Rating:

Cover image and summary from Goodreads:

New York Times bestselling author Lauren Oliver delivers a gripping story about two sisters inexorably altered by a terrible accident.

Dara and Nick used to be inseparable, but that was before the accident that left Dara's beautiful face scarred and the two sisters totally estranged. When Dara vanishes on her birthday, Nick thinks Dara is just playing around. But another girl, nine-year-old Madeline Snow, has vanished, too, and Nick becomes increasingly convinced that the two disappearances are linked. Now Nick has to find her sister, before it's too late.

In this edgy and compelling novel, Lauren Oliver creates a world of intrigue, loss, and suspicion as two sisters search to find themselves, and each other.

"Alarming and uplifting, a rare psychological thriller that has a kind heart at its center. Read it with all the lights on." -- E. Lockhart, author of We Were Liars.
I am a big fan of Lauren Oliver's Before I Fall and Panic. I love those books, and when I heard about Vanishing Girls, I was beyond excited.
I've said it before – I love reading stories about siblings. I'm a middle child and am always interested in stories about sibling dynamics. Lauren Oliver has really captured the way sisters can both love and frustrate each other, often at the same time. Of the two sisters, Dara and Nick, I think I identified a lot with Nick – she was the good daughter, who stayed out of trouble and followed the rules –  but a part of me could also identify with Dara, who often felt like she was in Nick's shadow.
I was also interested in the way that other people acted in accordance to Nick and Dara's relationship: Nick's best friend and Dara's sometimes boyfriend Parker, their divorced parents, and their friends.
I loved the way that the story of Madeline Snow's disappearance combined with that of Nick and Dara. It seemed unconnected at first, in the background to whatever was going on between Nick and Dara, but as the book went on, the link between the two storylines became clear and by the end, I was frantically reading in order to get to the bottom of it all.
Warning: skip this paragraph to avoid major spoilers! When I did get to the bottom of everything, I was crushed. Shocked. Heartbroken. I actually put the book down and had to explain it to my husband, almost in disbelief. I can honestly say that I did not see the twist (that Dara had been dead since the night of the accident) coming. And believe me, I can usually predict this stuff. I always say that I think it's difficult to truly surprise me as a reader because I read SO much, but Lauren Oliver really did it here. She totally blindsided me when the truth was revealed. I genuinely love when that happens, and the fact that I already loved this book made it even better. But it also broke my heart because it meant that Nick and Dara would not make up. But now I'm eager to purchase a finished copy and read it again, reexamining the conversations and interactions between Nick and the other characters. End of spoilers.
I'm a sucker for stories about siblings, the way they can love and hate and infuriate each other and also have each other's backs. Combine that with a tantalizing mystery and Lauren Oliver's wonderful writing, and I'm in book heaven! This is a must read!
Purchase links:
Check out the publisher's site for more information