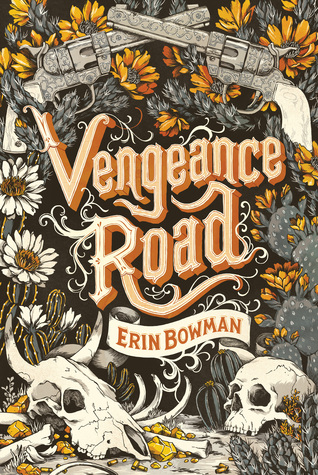 Vengeance Road
By Erin Bowman Source
Received from the publisher via Edelweiss
Published by
HMH Books for Young Readers
on September 1, 2015
Received from the publisher via Edelweiss in exchange for an honest review. This does not affect my opinion of the book or the content of my review.
Rating:

Cover image and summary from Goodreads:

When Kate Thompson's father is killed by the notorious Rose Riders for a mysterious journal that reveals the secret location of a gold mine, the eighteen-year-old disguises herself as a boy and takes to the gritty plains looking for answers and justice. What she finds are devious strangers, dust storms, and a pair of brothers who refuse to quit riding in her shadow. But as Kate gets closer to the secrets about her family, she gets closer to the truth about herself and must decide if there's room for love in a heart so full of hate.

In the spirit of True Grit, the cutthroat days of the Wild West come to life for a new generation.
I had my heart set on reading Vengeance Road since I first heard of it. It sounded so different from the books I usually read, and I was super intrigued. And that cover is certainly eye-catching!
I loved this book. It wasted no time getting Kate's story started. I loved her voice, the setting, and the way she decided to disguise herself as a boy on her journey, thinking she would be safer that way than venturing out as herself.
Kate's journey, her quest for vengeance, was fascinating to read. There was no doubt in her mind that she was going to find the men responsible for her father's death and kill them. I really enjoyed reading about Kate's mindset – she kills people in this book, and reading about her feelings and guilt and remorse – or lack thereof – was interesting. Did it make her good? Bad? Better, worse, no different than the men she hunted?
I also loved the characters Kate met along the way, who became part of her story. I was particularly interested in how Kate was going to disguise the fact that she was a girl, once she began to travel with two brothers she encounters early on.
Vengeance Road is a book that I'd love to own! It was moving, exciting, and well-written. It lived up to my expectations. Recommended!