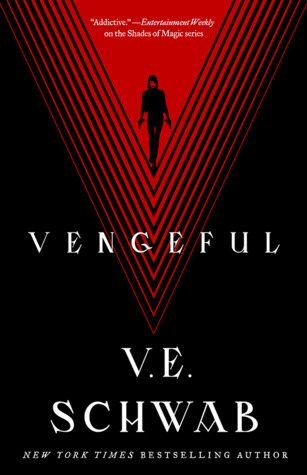 Vengeful
Series:
Villains #2
Source
Purchased
Published by
Tor
on September 25, 2018
Rating:

Magneto and Professor X. Superman and Lex Luthor. Victor Vale and Eli Ever. Sydney and Serena Clarke. Great partnerships, now soured on the vine.

But Marcella Riggins needs no one. Flush from her brush with death, she's finally gained the control she's always sought-and will use her new-found power to bring the city of Merit to its knees. She'll do whatever it takes, collecting her own sidekicks, and leveraging the two most infamous EOs, Victor Vale and Eli Ever, against each other.

With Marcella's rise, new enmities create opportunity--and the stage of Merit City will once again be set for a final, terrible reckoning.
Wow. I don't even know where to start reviewing this book. Not only was it my most-anticipated book of 2018, I think it was my most-anticipated book ever! I can't remember the last time I was this excited for a book to come out. After all, Victoria Schwab is one of my favourite authors, and Vicious is one of my all-time favourite books. When I first read it back in 2013, it was a stand-alone. When it was announced back in 2016, I think, that Victoria Schwab was working on a sequel, I couldn't handle my excitement! It was a long wait until release day arrived, but it was 100% worth the wait.
Prepare yourself, because this will be a long review. I have a lot of thoughts and feelings about Vengeful! (I also tweeted at Victoria Schwab as soon as I finished reading, and woke up the next day to see she liked and retweeted – basically the highlight of my year!)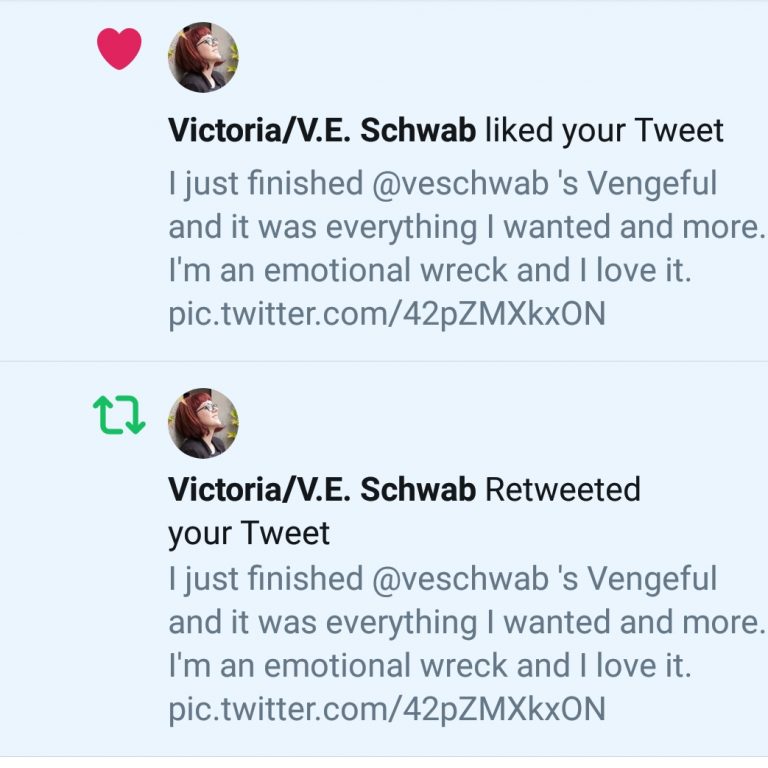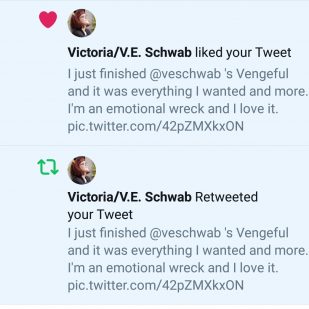 Prepare yourself, because this is going to be a long review. I have a lot of thoughts and feelings about Vengeful! (But I'll try and keep this spoiler-free so I won't get into plot specifics)
I reread Vicious right before my Vengeful pre-order showed up, so when I started reading this, I just wanted to be thrown back into Victor's world. So when the book opened with Marcella, a new character, I was a bit thrown and not sure how I felt about that.
But Marcella was just what I needed. She was awesome. I read this during the Kavanagh mess in the US, and there was something about Marcella and her story that felt kind of cathartic or something.
There was one death in the book that made me really sad (there are lots of deaths in this book). I won't say more, to keep things spoiler-free, but it was towards the end of the book, and by the time I finished reading, I was having an emotion overload. This book took its characters to some dark places, and I loved it, but it was heartbreaking in a way too.
And I can't believe it, but Vengeful actually made me have feelings for Eli! We got a look at his background and it made Eli a more rounded-out character to me. I didn't know I wanted to learn about his past, but it turns out I did!
There was another new character, June, and she and her abilities were so intriguing. I am really impressed with Victoria Schwab's ability to get me to be so invested in new characters in this book. When I finished re-reading Vicious I just wanted to read more about Victor and Sydney and Mitch, and Eli. But I became so interested in Marcella and June as well, and I love the way their story intertwined with Victor's and Eli's.
I feel like the end of this book left a possibility for a third, but that might be wishful thinking, because I love this series and the characters so much. I am quite satisfied if it's a duology and ends here.
I'm writing this review about two weeks after I finished reading, and I haven't been able to stop thinking about it. I've been tempted to pick it back up and re-read it already, and I think I will make it a goal to re-read it before the end of the year. I love Victoria Schwab's writing, and all of her books that I've read are fantastic (I particularly love her Shades of Magic series).
But there's something about Vicious and Vengeful that are extra-special to me, and I can't articulate what that is. I just know that I love these characters and their world, and I know that writing this book was something that Victoria Schwab struggled with (she discusses re-writing the book completely in this interview ), and I'm so grateful for this book.
This will definitely be one of my favourite books of the year. If you loved Vicious, I hope you love Vengeful too!