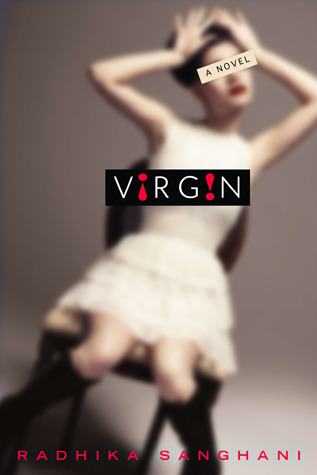 Virgin
By Radhika Sanghani Source
Received from the publisher
Published by
Berkley Trade
on August 5, 2014
Received from the publisher in exchange for an honest review. This does not affect my opinion of the book or the content of my review.
Rating:

Cover image and summary from Goodreads:

Okay, I admit it…I didn't do it.

Yet.

This is normal, right?  I mean, just because everyone I know has talked like they've already done it doesn't mean that they're telling the truth…right?

It's not like I'm asking for that much. I don't need the perfect guy. I don't need candlelight or roses. Honestly, I don't even need a real bed.

The guys I know complain that girls are always looking for Mr. Right—do I have to wear a sign that says I'm only looking for Mr. Right Now?

Sooooo…anyone out there want sex? Anyone? Hello? Just for fun?

I am not going to die a virgin. One way or another I am going to make this happen.

Hey, what have I got to lose? Besides the obvious.
I picked this up at BEA and read the first few chapters while I was waiting in between signings.
Ellie was likable right away. The book was funny, and had me laughing right there on the BEA show floor. Some aspects of the book were pretty relatable, like wondering about when and how other girls knew to do things as we grew up. I always wondered how the other girls in my grade knew to start wearing makeup and shaving their legs. I felt like none of that was on my radar until it was apparent that everyone else was doing it.
There was some examination of societal expectations and pressure on women, like the obsession with removing all body hair. However, there were some aspects that I'd have liked to read more about, such as Ellie's vlog with her friend (I thought that would come into play more than it did) and Ellie's relationship with her mother.
Overall, I didn't love this book, but it was a quick, fun read that had me laughing out loud.