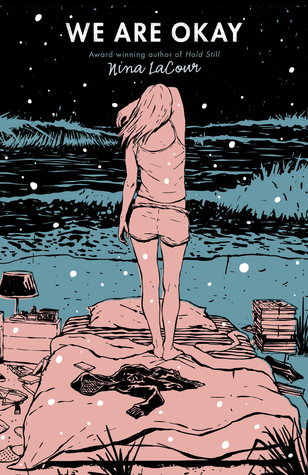 We Are Okay
By Nina LaCour Source
Library
Published by
Dutton Books for Young Readers
on February 14, 2017
Rating:

Cover image and synopsis from Goodreads:

Marin hasn't spoken to anyone from her old life since the day she left everything behind. No one knows the truth about those final weeks. Not even her best friend, Mabel. But even thousands of miles away from the California coast, at college in New York, Marin still feels the pull of the life and tragedy she's tried to outrun. Now, months later, alone in an emptied dorm for winter break, Marin waits. Mabel is coming to visit, and Marin will be forced to face everything that's been left unsaid and finally confront the loneliness that has made a home in her heart.
I love this book's cover, which is partly what drew me to the book. I was also drawn to We Are Okay because I've seen nothing but great reviews from people who's bookish opinions I trust.
This is a lovely, quiet book. There isn't a lot going on plot-wise, but it's a story about grief, pain, and family that drew me in. I have some of Nina LaCour's other books on my shelves and now I'm really looking forward to reading them!