Week In Review
October 26 – November 1
Hello! I'm so happy for that extra hour of sleep this morning. I'm going to keep it short and sweet this week.
There are a couple of new books that I'm excited to talk about!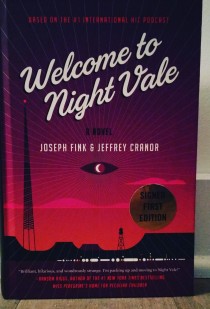 The first is my copy of Welcome to Night Vale, by Joseph Fink and Jeffrey Cranor, which I pre-ordered ages ago. I'm a huge fan of the podcast, and even got to see the live show when they came to my city. The book sounds great:
From the creators of the wildly popular Welcome to Night Vale podcast comes an imaginative mystery of appearances and disappearances that is also a poignant look at the ways in which we all struggle to find ourselves…no matter where we live.

Located in a nameless desert somewhere in the great American Southwest, Night Vale is a small town where ghosts, angels, aliens, and government conspiracies are all commonplace parts of everyday life. It is here that the lives of two women, with two mysteries, will converge.

Nineteen-year-old Night Vale pawn shop owner Jackie Fierro is given a paper marked "King City" by a mysterious man in a tan jacket holding a deer skin suitcase. Everything about him and his paper unsettles her, especially the fact that she can't seem to get the paper to leave her hand, and that no one who meets this man can remember anything about him. Jackie is determined to uncover the mystery of King City and the man in the tan jacket before she herself unravels.

Night Vale PTA treasurer Diane Crayton's son, Josh, is moody and also a shape shifter. And lately Diane's started to see her son's father everywhere she goes, looking the same as the day he left years earlier, when they were both teenagers. Josh, looking different every time Diane sees him, shows a stronger and stronger interest in his estranged father, leading to a disaster Diane can see coming, even as she is helpless to prevent it.

Diane's search to reconnect with her son and Jackie's search for her former routine life collide as they find themselves coming back to two words: "King City". It is King City that holds the key to both of their mysteries, and their futures…if they can ever find it. (Summary via Goodreads)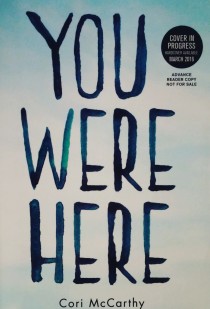 The other is You Were Here by Cori McCarthy, which I received as an ARC from Raincoast Books (thank you!!), and it sounds so good:
On the anniversary of her dardevil brother's death, Jaycee attempts to break into Jake's favorite hideout—the petrifying ruins of an insane asylum. Joined by four classmates, each with their own brand of disfunction, Jaycee discovers a map detailing her brother's exploration and the unfinished dares he left behind.

As a tribute to Jake, Jaycee vows to complete the dares, no matter how terrifying or dangerous. What she doesn't bargain on is her eccentric band of friends who challenge her to do the unthinkable: reveal the parts of herself that she buried with her brother. (Summary via Goodreads)
After a bit of a slump, I finished reading a bunch of books in the past week:
Slasher Girls and Monster Boys, edited by April Genevieve Tucholke;
Lumberjanes, Vol. 2, by Noelle Stevenson, Grace Ellis, Brooke Allen, and Shannon Watters;
The Devil and Winnie Flynn (ARC), by Micol Ostow and David Ostow;
The Walking Dead Compendium #3, by Robert Kirkman, Charlie Adlard, and Stefano Gaudiano; and
A Head Full of Ghosts, by Paul Tremblay.
Now I have a bunch of reviews to write!
Currently, I'm still reading (and very close to finishing) Black Widow: Forever Red, by Margaret Stohl. I've also started reading Yrsa Sigurdardottir's I Remember You.
Last week I posted my review of These Shallow Graves, by Jennifer Donnelly, and I should have a couple of reviews up this week for some of those books I finished reading this week!
That's it for me! I'm really looking forward to a 90 minute episode of The Walking Dead tonight!! But until then, I've got some chores to do and then I hope to settle in with a book. Happy Sunday!
Related Posts