November 2 – 8
Hello! We had some unseasonably warm weather here the past few days, and I loved it!
My husband and I are still watching The X-Files – we're a few episodes into season 2, but we're going to have to pick up the pace if we want to make it through all 9 seasons before January!
On to books! Two books showed up this week that I'm incredibly excited about (summaries from Goodreads):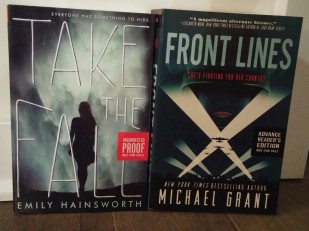 Take the Fall, by Emily Hainsworth:
WHO KILLED GRETCHEN MEYER?
Fear grips the residents of Hidden Falls the night Sonia Feldman and her best friend, Gretchen Meyer, are attacked in the woods. Sonia was lucky to escape with her life, but Gretchen's body is discovered at the bottom of a waterfall. Beautiful, popular, and seemingly untouchable, Gretchen can't be gone. Even as Sonia struggles with guilt and confusion over having survived, the whole town is looking to her for information…could she have seen something that will lead the police to the killer?

At the top of the list of suspects is Gretchen's ex-boyfriend—and Sonia's longtime enemy—Marcus Perez. So when Marcus comes to Sonia for help clearing his name, she agrees, hoping to find evidence the police need to prove he's the killer. But as Gretchen's many secrets emerge and the suspects add up, Sonia feels less sure of Marcus's involvement, and more afraid for herself. Could Marcus, the artist, the screwup, the boy she might be falling for have attacked her? Killed her best friend? And if it wasn't him in the woods that night…who could it have been?
Front Lines, by Michael Grant:
Perfect for fans of The Book Thief and Code Name Verity, New York Times bestselling author Michael Grant unleashes an epic, genre-bending, and transformative new series that reimagines World War II with girl soldiers fighting on the front lines.

World War II, 1942. A court decision makes women subject to the draft and eligible for service. The unproven American army is going up against the greatest fighting force ever assembled, the armed forces of Nazi Germany.

Three girls sign up to fight. Rio Richlin, Frangie Marr, and Rainy Schulterman are average girls, girls with dreams and aspirations, at the start of their lives, at the start of their loves. Each has her own reasons for volunteering: Rio fights to honor her sister; Frangie needs money for her family; Rainy wants to kill Germans. For the first time they leave behind their homes and families—to go to war.

These three daring young women will play their parts in the war to defeat evil and save the human race. As the fate of the world hangs in the balance, they will discover the roles that define them on the front lines. They will fight the greatest war the world has ever known.
Thank you to HCC Frenzy/Harper Collins Canada for the books! I'm seriously super excited for them!
I also bought an e-book of Hotel Ruby, by Suzanne Young:
Stay Tonight. Stay Forever.

When Audrey Casella arrives for an unplanned stay at the grand Hotel Ruby, she's grateful for the detour. Just months after their mother's death, Audrey and her brother, Daniel, are on their way to live with their grandmother, dumped on the doorstep of a DNA-matched stranger because their father is drowning in his grief.

Audrey and her family only plan to stay the night, but life in the Ruby can be intoxicating, extending their stay as it provides endless distractions—including handsome guest Elias Lange, who sends Audrey's pulse racing. However, the hotel proves to be as strange as it is beautiful. Nightly fancy affairs in the ballroom are invitation only, and Audrey seems to be the one guest who doesn't have an invite. Instead, she joins the hotel staff on the rooftop, catching whispers about the hotel's dark past.

The more Audrey learns about the new people she's met, the more her curiosity grows. She's torn in different directions—the pull of her past with its overwhelming loss, the promise of a future that holds little joy, and an in-between life in a place that is so much more than it seems…

Welcome to the Ruby.
I finished three books in the past week: Black Widow: Forever Red, by Margaret Stohl; I Remember You by Yrsa Sigurdardottir; and Slade House (e-galley) by David Mitchell.
Currently, I'm reading Rook by Sharon Cameron (I love it so far!) and Hotel Ruby.
Last week I posted reviews of Slasher Girls and Monster Boys, edited by April Genevieve Tucholke, and The Devil and Winnie Flynn by Micol Ostow and David Ostow.
Coming up this week are my reviews of A Head Full of Ghosts, by Paul Tremblay, and I Remember You.
That's it for me! I have a couple of reviews to write, some more X Files to watch, and hopefully some more reading to do – and then of course The Walking Dead at 9!
Happy Sunday!