Week In Review
December 7 – 13
I didn't do one of these last week. I'm still not quite where I want to be in terms of reading and blogging, so I didn't have anything to write about last week!
As far as books, I picked up two from the library that I'm really excited about: After I Do, by Taylor Jenkins Reid, and Another Day, by David Levithan (companion to Every Day, which I really liked).
I also purchased Falling Kingdoms, by Morgan Rhodes, and received Maid of Secrets, by Jennifer McGowan, as part of the book swap at the Ottawa Blogettes Secret Santa on Friday.
Speaking of which, I was totally spoiled by my Secret Santa, Ciara! She knows my love of Supernatural (and Dean Winchester) and Pokemon and gave me some excellent goodies: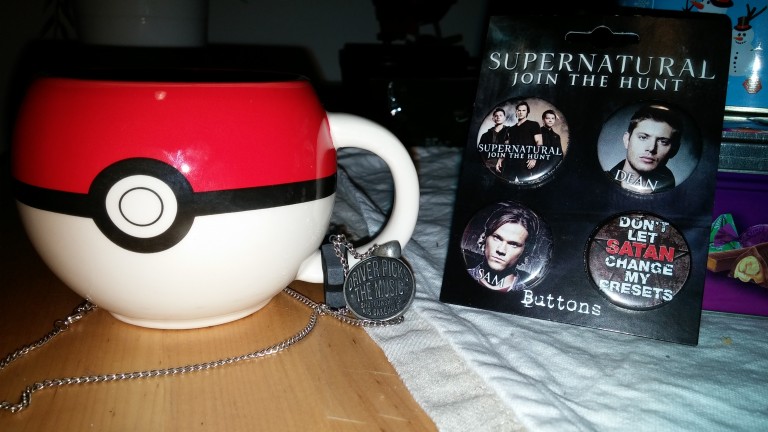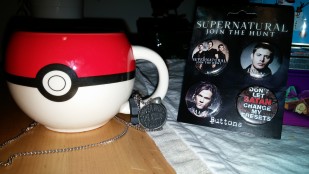 A Pokemon mug, Supernatural pins, and a Supernatural necklace! I love them!! Thanks Ciara!!
I finished reading two books in the last couple of weeks: Daughter of Deep Silence, by Carrie Ryan, and a non-fiction book, Scream: Chilling Adventures in the Science of Fear, by Margee Kerr.
Currently, I'm still reading (and very nearly finished) The Rook, by Sharon Cameron (I feel like I've been reading this forever).
No reviews last week – oops! But coming up this week are my reviews of After You, by Jojo Moyes, and Daughter of Deep Silence.
Time to type up some reviews, drink some mulled wine by the Christmas tree, and read! Happy Sunday!
Related Posts