Week In Review
October 23 – 29
Happy Sunday! The weather has finally started to feel like fall, and the leaves are changing and I'm happily snuggled up in a blanket in my reading chair. My husband and I have started watching Stranger Things season two (it's so good!) and we'll watch a few more episodes today.
New books: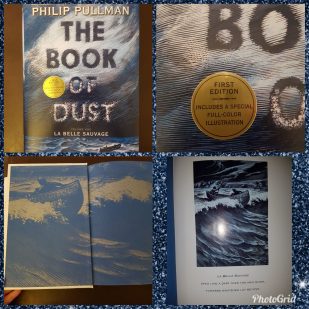 I was really excited to pick up my pre-order of La Belle Sauvage (Book of Dust #1) by Philip Pullman.  It's a lovely book, and I loved His Dark Materials series. I'm debating rereading that series before I read La Belle Sauvage, because it's been years and years since I read them.
Books read:
I have been on a Tana French tear this week! After reading the first two books in her Dublin Murder Squad series last week, I carried on this week and read two more:
Faithful Place; and
I love her books. They're mysteries, but it's not just the mystery and wanting to know what happens next that has kept me reading. It's the characters, and the way a peripheral character from one book is often the main character in the next. I love the way that loosely connects each book in the series, and I really love the characters and the way Tana French writes them.
Current reads:
I'm reading the next book in the Dublin Murder Squad series, The Secret Place, and The Knife of Never Letting Go by Patrick Ness. I'm hoping to finish one of them today.
Reviews:
I posted two reviews this week, both books I really liked:
The Ravenous, Amy Lukavics; and
In the Woods, Tana French.
Now I'm going to try and finish one of my books, cosy in my chair while it's cold and rainy outside. Happy Sunday!
Related Posts