Week In Review
January 13 – 19
Well, things have certainly improved, as far as work and my health are concerned. It was still not an easy week, but better than the last!
I love love love nail polish, and a while back I went a bit nuts ordering some very discounted polish from the Julep secret store (I love their Maven program! I don't order a box every month, but I love checking out the new colours!).  My order arrived on Friday (swatch pictures from Julep's site):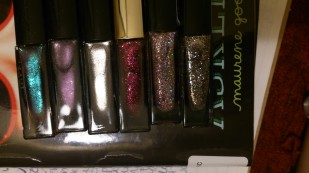 Betty (this is from the new Birthstone Collection and is very pink and sparkly):

Yumi (this is light pink and sparkly):

Mila (sort of grey with multi-coloured sparkles):

Missy (silver):

Ciara(purple/teal duochrome):

Reece (I'm wearing this one now and it's gorgeous! Grey/purple with microglitter! But unless you like the feel of gritty nail polish, definitely use a top coat):

It took me forever to figure out which colour to wear first! I'm also kind of obsessed with NCLA Cookies and Gold and Heart Attack nail polish, but can't bring myself to justify purchasing them. Sigh.
I'm also incredibly excited for BBC's Sherlock to air the season three premiere tonight on PBS! I feel like I've been waiting forever for this episode, and will totally be rewatching the last episode of season two today in preparation!
I had some major happiness-inducing book mail this week from Simon Pulse: The Year of Mistaken Discoveries by Eileen Cook, and To All the Boys I've Loved Before by Jenny Han! I'm super excited to read these!
I also purchased Cassandra Clare's Clockwork Angel for my Kobo, and got Me Since You by Laura Wiess from Edelweiss. Thank you!
I finished reading Veronica Rossi's Through the Ever Night and Maurene Goo's Since You Asked. I loved both books!
Currently I'm about halfway through Mindee Arnett's The Nightmare Dilemma, and have just started Clockwork Angel.
Last week I posted my reviews of Avalon by Mindee Arnett, and Winger by Andrew Smith. I also shared my Top Ten Tuesday post about the ten 2014 debuts I'm most excited about.
This week I'm sharing my reviews of Through the Ever Night and Since You Asked.
That's it for me! I'm off to read and then watch Sherlock tonight! I can't wait!! Happy Sunday!
Related Posts