April 21 – 27
Well, so far the new position at work seems to be going well! It's a change but I think it's a good change – and considering how much I dislike/fear change, that's a pretty major statement for me to make!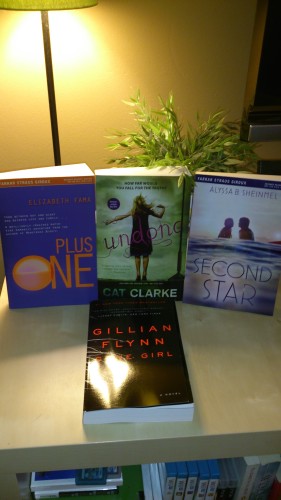 It was a busy book week: my order of Gone Girl by Gillian Flynn in paperback arrived in the mail, along with some awesome ARCs from Raincoast: Plus One by Elizabeth Fama; Second Star by Alyssa Sheinmel; and Undone by Cat Clarke.
I purchased Requiem by Lauren Oliver, The Painted Girls by Cathy Marie Buchanan, and Stolen by Lucy Christopher.
I also pre-ordered Endless by Kate Brian in e-book format (last in the Shadowlands trilogy).
This week I finished reading Hereafter by Kate Brian (second book in the Shadowlands trilogy) and The Ocean at the End of the Lane by Neil Gaiman.
I was reading #scandal by Sarah Ockler but DNF'd it. I just could not get into it. And once I decided to stop reading it, I felt free! It's so so so difficult for me to not finish a book, but I decided that life is too short to force myself to finish reading something that I'm not enjoying, when I could be reading something else that I'll enjoy.
Currently I'm reading Plus One – I've heard mixed things about it, but it's one that I've been excited for and I'm liking it so far.
On the blog, I posted my reviews of:
Not a Drop to Drink by Mindy McGinnis;
Sea of Shadows by Kelly Armstrong; and
Blackout by Mira Grant.
Coming up on the blog are reviews of
Hyperbole and a Half by Allie Brosh;
Tease by Amanda Maciel;
Sleep No More by Aprilynne Pike; and
Prisoner of Night and Fog by Anne Blankman.
Okay, time for coffee and reading on the couch! Happy Sunday!