Week In Review
October 27 – November 2
It's November now! That means, in my mind, it's time to get ready for Christmas! I've already done a little of my Christmas shopping, and I'm starting to put my Christmas music playlist together. Hooray!
I hope everyone enjoyed their extra hour of sleep this morning! I do love 'falling back'! Maybe I'll use my extra hour to practice french braiding my hair. I made it my mission to finally learn how to do it this weekend, but it's so much harder than I anticipated!
I broke my book buying ban this week, but for good reason: the new Amy Poehler book, Yes Please, was 40% off in hardcover at Chapters. I couldn't pass that up! But now I'm back on the ban.
I have a lot of books to read right now, between ARCs and the library, so there's no need for me to buy anything else. I took out The One by Kiera Cass from the library again (I've taken it out and returned it unread two times already. I want to read it but I can never get to it before it's due back).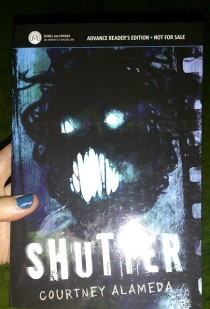 I received an ARC of Courtney Alameda's Shutter from Raincoast Books (thank you!). I'm so so so excited to read this one! It sounds like my kind of book, and I was so excited to get this in the mail.
I also received an e-arc via Netgalley of Cat Patrick's Court. I'm really looking forward to reading this (thank you Rock Star Lit PR!).
I also went nuts on Edelweiss over the following e-arcs (thank you Balzer + Bray, HarperTeen, and Katherine Tegen Books!):
99 Days by Katie Cotugno;
Conspiracy of Blood and Smoke by Anne Blankman (sequel to Prisoner of Night and Fog);
Invincible by Amy Reed;
Challenger Deep by Neal Shusterman; and
Every Last Promise by Kristin Halbrook.
Currently I'm reading My True Love Gave to Me (getting into the holiday spirit!) and I'm very slowly reading Yes Please (I want to take my time with this one and not rush). I'm also reading All She Was Worth, by Miyuke Miyabe. That one's due back at the library this week so I'd better hurry up and finish!
I finished reading one book this week: Smart, by Kim Slater (this was really good!). I was reading Splintered by A.G. Howard for book club, but DNF'd around 150 pages. I couldn't get into the book and wasn't enjoying anything about it.
On the blog, I posted my reviews of:
Complicit by Stephanie Kuehn;
The Perfectionists by Sara Shepard; and
The Fall by Bethany Griffin.
Coming up this week are reviews of:
Allison Hewitt is Trapped by Madeleine Roux;
Trial by Fire by Josephine Angelini; and
Winterspell by Claire Legrand.
Time for coffee, breakfast, and curling up with my library book! Happy reading!
Related Posts