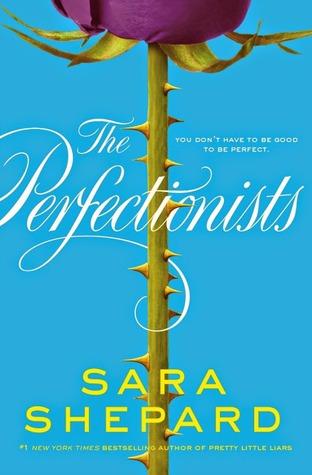 The Perfectionists
By Sara Shepard Series:
The Perfectionists #1
Source
Received from the publisher
Published by
Harper Collins
on October 7, 2014
Received from the publisher in exchange for an honest review. This does not affect my opinion of the book or the content of my review.
Rating:

Cover image and summary from Goodreads:

From the author of the #1 New York Times bestselling series Pretty Little Liars comes a thrilling new novel about five perfect girls who are framed for a murder they didn't commit.

In Beacon Heights, Washington, five girls—Ava, Caitlin, Mackenzie, Julie, and Parker—know that you don't have to be good to be perfect. At first the girls think they have nothing in common, until they realize that they all hate Nolan Hotchkiss, who's done terrible things to each of them. They come up with the perfect way to kill him—a hypothetical murder, of course. It's just a joke...until Nolan turns up dead, in exactly the way they planned. Only, they didn't do it. And unless they find the real killer, their perfect lives will come crashing down around them.

From Sara Shepard, author of the #1 New York Times bestselling Pretty Little Liars series, comes another story of dark secrets, shocking twists, and what happens when five beautiful girls will do anything to hide the ugly truth.
It's no secret that I'm a a major fan of Sara Shepard's Pretty Little Liars series. I've been reading that series for years, and am super excited for the final book, out this year. I've also read and enjoyed The Lying Game series, as well as The Heiresses (which came out this summer).
So clearly I'm a fan of hers! When I heard about The Perfectionists, I was majorly excited and knew I had to read it. And when I ended up with a copy from the HCC Frenzy event (THANK YOU SHELLY!), I was freaking out!!
There are certain things I've come to expect from a Sara Shepard book, and I'm pleased to say that most, if not all, were present here: romance (forbidden romance!), secrets (and secrets getting out), mean girl antics, ridiculous parties, death/murder, and a seemingly omniscient foe out to get our protagonists.
In this case, we have five protagonists – Ava, Caitlin, Julie, Mackenzie, and Parker – who are all seemingly quite different from each other, but are united by their hatred of the school's most popular (but feared) guy, Nolan. After a party, Nolan turns up dead, and all signs begin to point to our group of five.
Being a Sara Shepard veteran, I knew better than to expect answers and a resolution from this book! That didn't make it any easier, though, to race through the last few chapters, hoping that I might at least get one or two answers…nope. Although I have some guesses, the end of the book left me pretty in the dark about who the killer is, and why he/she (they?) is going after our protagonists and framing them!
The Perfectionists was another fun page-turner from Sara Shepard. The story lacks that something that engages me emotionally, but I totally recommend it if you're looking for a fun, twisty mystery – and you don't mind waiting for book two!