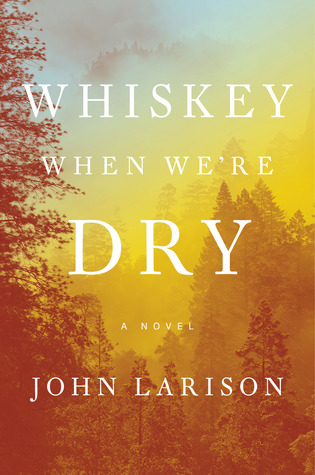 Whiskey When We're Dry
By John Larison Source
Purchased
Published by
Viking
on August 21, 2018
Rating:

In the spring of 1885, seventeen-year-old Jessilyn Harney finds herself orphaned and alone on her family's homestead. Desperate to fend off starvation and predatory neighbors, she cuts off her hair, binds her chest, saddles her beloved mare, and sets off across the mountains to find her outlaw brother Noah and bring him home. A talented sharpshooter herself, Jess's quest lands her in the employ of the territory's violent, capricious Governor, whose militia is also hunting Noah--dead or alive.

Wrestling with her brother's outlaw identity, and haunted by questions about her own, Jess must outmaneuver those who underestimate her, ultimately rising to become a hero in her own right.

Told in Jess's wholly original and unforgettable voice, Whiskey When We're Dry is a stunning achievement, an epic as expansive as America itself--and a reckoning with the myths that are entwined with our history.
I can't remember where I first heard about this book, but I was really in the mood for a Western with a female protagonist. When I heard that this was about a girl in 1885 who disguises herself as a boy while tracking down her outlaw brother, I knew I had to read it!
I was drawn into this story right away. I loved the writing and Jess's voice. I also loved not knowing where the story would go and how it would end. I was so caught up in Jess's story, and the harshness of her life.
I was a bit disappointed when I felt like things slowed down around the halfway mark, but the last third of the book picked up and I read quickly, unable to put the book down.
I was fully invested in Jess's story and how it would end. Would she find her brother? If she did, would he go home with her? Would anyone find out that she was a girl disguised as a boy? And when the book did end, I had to sit and try to process what I was feeling after finishing the book.
I wasn't surprised that I liked this book, but I was surprised by how much I liked it, and by how much I cared about Jess. The emotional investment snuck up on me. I had been so caught up in the plot, which intrigued me so much, that I didn't even realize that I had grown to care about Jess and some of the people around her as much as I did.
And the writing was fantastic. There were so many sentences that I wanted to highlight or write down. I found myself re-reading passages just for the pleasure of it, and reading this book reminded me of the way I felt re-reading Elizabeth Kostova's The Historian this year, in that both books evoked a sense of delight in the written word and the act of reading.
As soon as I finished reading, I knew Whiskey When We're Dry would end up on my list of favourite books read in 2018. Jess's voice came through so strongly, and I'm so interested to see what John Larison writes next.
I loved this book, and according to John Larison's website, it's in development for a feature film. I'm really excited to see what a movie version of this would look like.