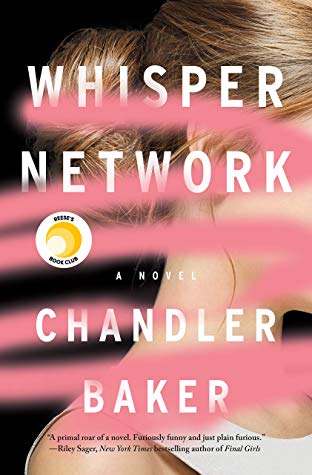 Whisper Network
By Chandler Baker Source
Purchased
Published by
Flatiron Books
on July 2, 2019
Rating:

Sloane, Ardie, Grace, and Rosalita are four women who have worked at Truviv, Inc., for years. The sudden death of Truviv's CEO means their boss, Ames, will likely take over the entire company. Ames is a complicated man, a man they've all known for a long time, a man who's always been surrounded by...whispers. Whispers that have always been ignored by those in charge. But the world has changed, and the women are watching Ames's latest promotion differently. This time, they've decided enough is enough.

Sloane and her colleagues set in motion a catastrophic shift within every floor and department of the Truviv offices. All four women's lives—as women, colleagues, mothers, wives, friends, even adversaries—will change dramatically as a result.
I went into this book with some apprehension, because lately some of the big buzzy books I've read just didn't do it for me. But this was a book club pick, so I was determined to read it and hoped I'd enjoy it.
The time jumps and following multiple characters kept me on my toes, and kept me intrigued. At times, the story felt a bit over the top, and I might be burned out on books that try to capture all of the awful things that women experience in the workplace and the world at large, because I felt weary reading this sometimes.
But I cared about Ardie, Grace, Rosalita, and Sloane, and I was invested in their friendships. That helped me care about the outcome beyond just wanting to know what was going to happen in the end.