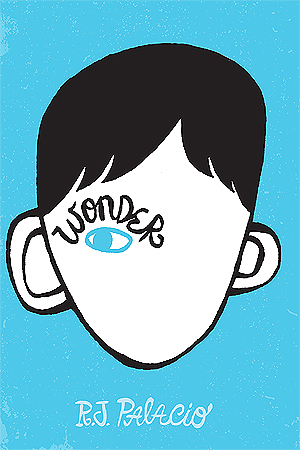 Wonder
By R.J. Palacio Series:
Wonder #1
Source
Purchased
Published by
Knopf
on February 14, 2012
Rating:

Cover image and synopsis from Goodreads:

I won't describe what I look like. Whatever you're thinking, it's probably worse.

August (Auggie) Pullman was born with a facial deformity that prevented him from going to a mainstream school—until now. He's about to start 5th grade at Beecher Prep, and if you've ever been the new kid then you know how hard that can be. The thing is Auggie's just an ordinary kid, with an extraordinary face. But can he convince his new classmates that he's just like them, despite appearances?

R. J. Palacio has written a spare, warm, uplifting story that will have readers laughing one minute and wiping away tears the next. With wonderfully realistic family interactions (flawed, but loving), lively school scenes, and short chapters, Wonder is accessible to readers of all levels.
This was the most recent pick for the Sisterhood of the Travelling Book Club, and this is a book that had been on my TBR for years. I'm so glad I finally got around to reading it!
Wonder was a great book, and a very quick read. I read the whole thing in one day, and was immediately pulled into Auggie's world. I also really enjoyed that the story changed perspectives so that I got to know other characters better. I wasn't expecting that and I really enjoyed it.
This was a really great book, one that I think I would have loved when I was younger. There is a movie adaptation coming out later this year, and I am definitely going to have to see it.