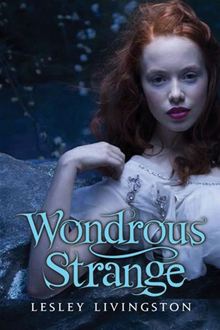 Wondrous Strange
By Lesley Livingston Series:
Wondrous Strange #1
Source
Purchased
Published by
HarperTrophyCanada
on December 29, 2009
Rating:

Seventeen-year-old actress Kelley Winslow thinks that playing the role of the fairy queen Titiana in a production of Shakespeare's Midsummer Night's Dream could be her lucky break - if she can pull it off. But when she meets the handsome Sonny Flannery, Kelley has to face the shocking truth that the world of Faeries is all too real - and that she an unwitting part of it. Sonny warns Kelley that she is no mere mortal, and that she is being haunted by powerful forces from the Faerie realm. Now, Kelley must come to terms with her heritage - and her growing feelings for Sonny - if she wants to save not only herself, but also the human world that she holds dear.
This book has been on my TBR for so long (since I first got my Kobo!). I kept putting off reading it, stuck between being interested enough to purchase it initially and contemplate reading it every time I finished a book, and not feeling quite intrigued enough to start reading it.
Kelley Winslow is 17, pursuing her dream of acting as understudy in A Midsummer Night's Dream, living in a tiny apartment with a roommate. One night, while rehearsing in Central Park, she encounters Sonny, who finds himself drawn to her.
Throughout the novel, Kelley and Sonny bicker while he tries to protect her and she refuses to believe she's in any danger. Kelley thinks Sonny, with his talk of Faerie and changelings and magic, is crazy, but Sonny knows he needs to protect Kelley. As she comes to accept the things he tells her, things become more dangerous for both of them.
I don't want to get too spoiler-y with the plot, because part of what I liked about this book was that, despite the length of time it's been on my TBR, I didn't know that much about it. I enjoyed learning about the Faerie world, which seemed both beautiful and dangerous, and which has its own power / political struggles. I thought the world-building was pretty good for this first book in a trilogy.
I also liked the main characters, Kelley and Sonny. Kelley was strong-willed, a bit stubborn, and seemed quite independent, as she had moved to New York at 17 to try her hand at acting (and it's a good plot device to ensure that there are no parental/adult figures around! Although I should mention that Kelley does have an aunt, but they only speak by phone in this book). Sonny was a more intruguing character for me, given his history, which I appreciated. Sometimes the boy in YA romance novels comes across as fairly bland, but Sonny definitely has his own personality and motivations.
Sonny and Kelley's pasts came together in a way that I saw coming, and you probably will too, but I thought it was a good twist for the story, and am looking forward to seeing where the rest of the series takes things.
I enjoyed this book more than I thought I would. If you like urban fantasy and/or YA romance, this may be a book (and series) for you.