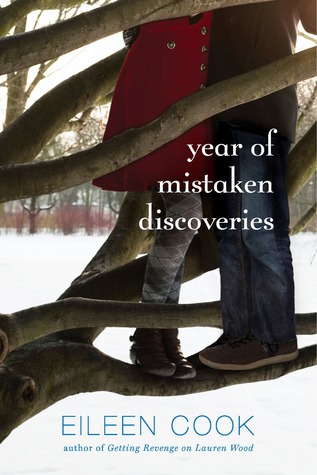 Year of Mistaken Discoveries
By Eileen Cook Source
Received from the publisher
Published by
Simon Pulse
on February 25, 2014
Received from the publisher in exchange for an honest review. This does not affect my opinion of the book or the content of my review.
Rating:

From Goodreads:

Friendship is a bond stronger than secrets in this novel from the author of The Almost Truth and Unraveling Isobel.

As first graders, Avery and Nora bonded over a special trait they shared: they were both adopted.

Years later, Avery is smart, popular, and on the cheerleading squad, while Nora spends her time on the fringes of school society, wearing black, reading esoteric poetry, and listening to obscure music. They never interact...until the night Nora approaches Avery at a party, saying it's urgent. She tells Avery that she thought she found her birth mom - but it turned out to be a cruel lie. Avery feels for Nora, but returns to her friends at the party.

Then Avery learns that Nora overdosed on pills. Left to cope with Nora's loss and questioning her own actions, Avery decides to honor her friend by launching a search for her own birth mother. Aided by Brody, a friend of Nora's who is also looking for a way to respect Nora's legacy, Avery embarks on an emotional quest. But what she's really seeking might go far deeper than just genetics.
I don't really know where to start writing this review. As I read the book, I really enjoyed it, but now that a couple of days have passed and I've been thinking about this review, I feel like I don't have much to say about the book.
Going in, I did think that there would be more about Nora in this book, particularly about her friendship with Brody. I didn't feel that I really knew too much about her, and since she and Avery had drifted apart and hadn't been close over the past few years, I was left feeling as though I didn't know anything about her, despite the significance of her death and its impact on Avery's life.
I did enjoy reading about Avery's search for her birth mother. The process she had to go through to get information seemed like such a bureaucratic nightmare! And it was so interesting to see how she felt about being adopted – despite growing up in a loving home with great parents, she had insecurities that she struggled with and tried to hide. The changes that she made in her life as she went through the experiences in this book were interesting, e.g. deciding how she really felt about going to Duke, being a cheerleader, and dating the popular jock. Avery became more self-aware, as a result of the discoveries she made about herself. It certainly wasn't what she expected when she began the search for her birth mother, and I loved reading about her self-discovery.
The ending of this book felt a bit rushed, but I liked the story, the writing, and the characters. Avery and her friends were popular but they weren't mean girls, which was refreshing (don't get me wrong, I adore stories about mean girls, but it's nice to read a book once in a while that shows people can be well-liked and popular without feeding on the fear of everyone else).
Overall, I enjoyed this. I think it's a great recommended read for contemporary YA fans.