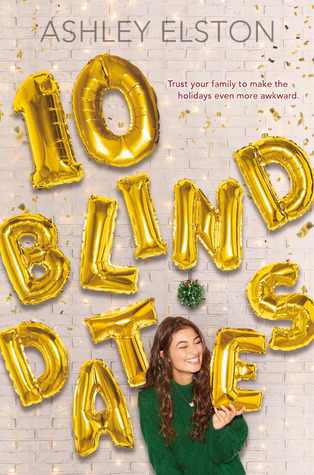 10 Blind Dates
By Ashley Elston Source
Library
Published by
Disney-Hyperion
on October 1, 2019
Rating:

Sophie wants one thing for Christmas-a little freedom from her overprotective parents. So when they decide to spend Christmas in South Louisiana with her very pregnant older sister, Sophie is looking forward to some much needed private (read: make-out) time with her long-term boyfriend, Griffin. Except it turns out that Griffin wants a little freedom from their relationship. Cue devastation.

Heartbroken, Sophie flees to her grandparents' house, where the rest of her boisterous extended family is gathered for the holiday. That's when her nonna devises a (not so) brilliant plan: Over the next ten days, Sophie will be set up on ten different blind dates by different family members. Like her sweet cousin Sara, who sets her up with a hot guy at an exclusive underground party. Or her crazy aunt Patrice, who signs Sophie up for a lead role in a living nativity. With a boy who barely reaches her shoulder. And a screaming baby.

When Griffin turns up unexpectedly and begs for a second chance, Sophie feels more confused than ever. Because maybe, just maybe, she's started to have feelings for someone else . . . Someone who is definitely not available.

This is going to be the worst Christmas break ever... or is it?
This was a book that I'd heard great things about, and I kept checking it out of the library but not quite managing to read it before it was due back.
Finally, though, I read it and it was delightful! It took me a few chapters to get into it and to keep track of Sophie's large family, but once I was into it, I didn't want to put it down. It was such a fun, sweet, funny book, and the fact that it takes place over Christmas is a big bonus for me!
I thought the outcome in terms of the romance was pretty predictable, but that didn't make it any less fun to read. This was just the book I needed to read when I read it, and if you're looking for a fun and fluffy read, this is just the thing.