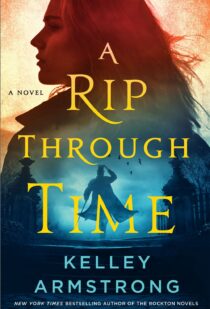 A Rip Through Time
By Kelley Armstrong Series:
A Rip Through Time #1
Source
Purchased
Published by
Minotaur Books
on May 31, 2022
Rating:

May 20, 2019: Homicide detective Mallory is in Edinburgh to be with her dying grandmother. While out on a jog one evening, Mallory hears a woman in distress. She's drawn to an alley, where she is attacked and loses consciousness.

May 20, 1869: Housemaid Catriona Mitchell had been enjoying a half-day off, only to be discovered that night in a lane, where she'd been strangled and left for dead . . . exactly one-hundred-and-fifty years before Mallory was strangled in the same spot.

When Mallory wakes up in Catriona's body in 1869, she must put aside her shock and adjust quickly to the reality: life as a housemaid to an undertaker in Victorian Scotland. She soon discovers that her boss, Dr. Gray, also moonlights as a medical examiner and has just taken on an intriguing case, the strangulation of a young man, similar to the attack on herself. Her only hope is that catching the murderer can lead her back to her modern life . . . before it's too late.

Outlander meets The Alienist in Kelley Armstrong's A Rip Through Time, the first book in this utterly compelling series, mixing romance, mystery, and fantasy with thrilling results.
When I first read the synopsis, I couldn't help but be reminded of the Kendra Donovan series by Julie McElwain, which I quite enjoy, so I knew this was a book I had to check out.
Despite sounding similar (to me) at first, there are definitely some differences in how the Kendra Donovan series and this book approach the mysterious time travel, mainly that in Julie McElwain's series, the protagonist remains in her own body, whereas in this story, the protagonist is herself but in someone else (which raises the question in her mind, and mine: if she is in someone else's body, is someone else in present day in hers?).
I was a bit slow to get into this, but overall I really liked it! I am definitely a sucker for a good time travel and mystery story, so this was absolutely my kind of read. I was so interested in the undertaker business of Dr. Gray and really enjoyed seeing Mallory assist him with his work.
I liked reading about Mallory trying to navigate life in 1869 Edinburgh while also trying to figure out more about the person whose body she inhabited, and whether or not she could trust anyone with the truth. The murder mystery was just as interesting to me, and had a neat little twist in that View Spoiler » the man who attacked Mallory in the present day also got caught up in the body-swap time travel! « Hide Spoiler
I do hope there will be a sequel, because I really enjoyed this one and until there's another Kendra Donovan book, this will have to be my new time-travel murder mystery series!