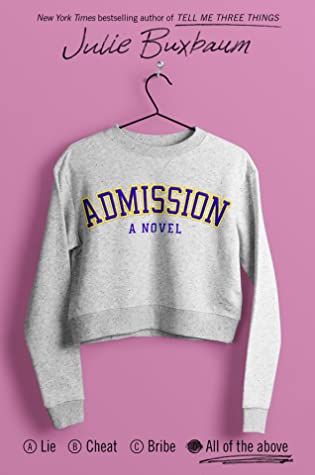 Admission
By Julie Buxbaum Source
Library
Published by
Delacorte Press
on December 1, 2020
Rating:

It's good to be Chloe Wynn Berringer. She's headed off to the college of her dreams. She's going to prom with the boy she's had a crush on since middle school. Her best friend always has her back, and her mom, a B-list Hollywood celebrity, may finally be on her way to the B+ list. It's good to be Chloe Wynn Berringer--at least, it was, until the FBI came knocking on her front door, guns at the ready, and her future went up in smoke. Now her mother is under arrest in a massive college admissions bribery scandal. Chloe, too, might be facing charges, and even time behind bars. The public is furious, the press is rabid, and the US attorney is out for blood.

As she loses everything she's long taken for granted, Chloe must reckon not only with the truth of what happened, but also with the examination of her own guilt. Why did her parents think the only way for her to succeed was to cheat for her? What did she know, and when did she know it? And perhaps most importantly, what does it mean to be complicit?
I was excited to get a copy of this via the library, and it turned out to be much more of a compelling page-turner than I expected! I really liked this one.
The story definitely had a ripped-from-the-headlines feel re: the college admissions bribery scandals, and it approached the story from the perspective of Chloe, a teenager whose wealthy parents took part in the scandal.
I liked that the story grappled with the privilege and entitlement of Chloe, her family, and a bunch of her classmates. I thought it mostly did a good job of that but it I also feel conflicted about that because the book chooses to centre Chloe and her white privilege, and there were other characters and perspectives that I think could have been explored to give a fuller view of things, such as Chloe's best friend Shola, who was Black and not rich like Chloe's and her schoolmates' families. And it was also difficult to read at times how sympathetically Chloe's parents were portrayed. View Spoiler »It really wasn't clear to me that her parents truly understood why what they did was wrong in the end, and while I understand that they were simply doing what they thought was best for their child and didn't see the harm in that, I wish there had been more of an examination of the inequities that made it so her parents could afford to do such a ridiculously expense thing in the first place. « Hide Spoiler But at the same time, I understand that this story was about Chloe, not her parents, and I was hoping to see some sort of awakening in her, her eyes finally opening to the truly obscene wealth and privilege she had.
I do think that the story did a decent job of showing Chloe's growth, but it did lose some things by jumping back and forth in time. View Spoiler » By gradually revealing what Chloe knew, I felt like the story gave up the opportunity to show more character growth. It missed out on the reader getting a fuller sense of Chloe grappling with what she knew and when, whether she was complicit, and her privilege because that information was only revealed in full towards the end of the book, I suppose so that the reader could be 'surprised' with what Chloe actually knew and when. « Hide Spoiler
That said, I generally liked the jumps back and forth in time because it did keep me reading, waiting to see the past and the present catch up to each other. I can't deny that this was a major page-turner for me, and I finished it in one day.