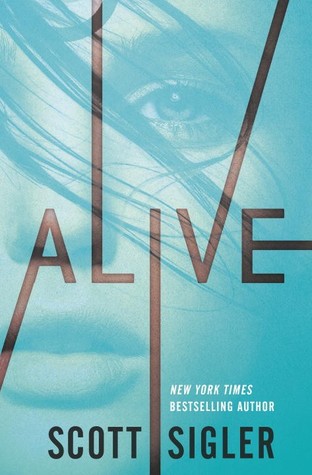 Alive
By Scott Sigler Series:
The Generations Trilogy #1
Source
Borrowed ARC
Published by
Del Ray
on July 14, 2015
Rating:

Cover image and summary from Goodreads:

From New York Times bestselling author Scott Sigler comes something utterly new: a gripping sci-fi adventure trilogy in the vein of The Hunger Games, Divergent, and The Maze Runner. A group of young adults awake in a mysterious enclosed space with no knowledge of who they are or how they got there…and an indomitable young woman must lead them not only to answers but to survival.

A young woman awakes trapped in an enclosed space. She has no idea who she is or how she got there. With only her instincts to guide her, she escapes her own confinement—and finds she's not alone. She frees the others in the room and leads them into a corridor filled with the remains of a war long past. The farther these survivors travel, the worse are the horrors they confront. And as they slowly come to understand what this prison is, they realize that the worst and strangest possibilities they could have imagined don't even come close to the truth.
I borrowed this ARC from my friend Ciara. I read the synopsis on the back cover and felt immediately compelled to read it – it definitely sounded like my kind of book!
I read this pretty quickly. I definitely don't want to spoil the plot, so I hope I'm not ruining anything by saying that the story went in unexpected directions more than once, and I enjoyed it! This was a super plot-heavy book and I kept telling myself that I would put it down at the end of the chapter, but then I couldn't make myself stop reading!
There were a lot of characters in this story, and I never really got a sense of who any of them were. This felt like more of a plot-focused book than character-focused, and I think that's why, even though it was a fun read, I didn't feel anything emotionally as I read. Other than the main character, I wasn't very concerned with what was going to happen to anyone. It isn't a book that has stayed with me, but at the time, I enjoyed the story's twists and turns.
If you're looking for a fun read, and if you were a fan of The Maze Runner, I think you'll enjoy Alive. I know I'll be checking out the sequel!