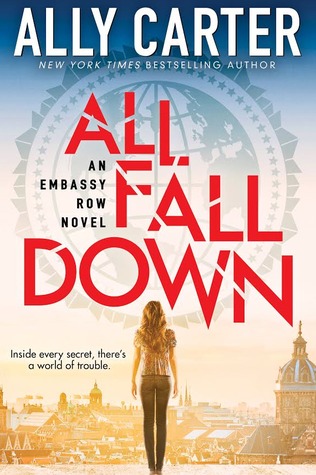 All Fall Down
By Ally Carter Series:
Embassy Row #1
Source
Library
Published by
Scholastic Press
on January 20, 2015
Rating:

Cover image and summary from Goodreads:

A new series of global proportions -- from master of intrigue, NEW YORK TIMES bestselling author Ally Carter.

This exciting new series from NEW YORK TIMES bestselling author Ally Carter focuses on Grace, who can best be described as a daredevil, an Army brat, and a rebel. She is also the only granddaughter of perhaps the most powerful ambassador in the world, and Grace has spent every summer of her childhood running across the roofs of Embassy Row.

Now, at age sixteen, she's come back to stay--in order to solve the mystery of her mother's death. In the process, she uncovers an international conspiracy of unsettling proportions, and must choose her friends and watch her foes carefully if she and the world are to be saved.
This was my first Ally Carter read! I own the first book in her Heist Society series, but haven't actually read it yet.
So I was really excited going into All Fall Down. Friends and fellow bloggers seem to love her other books, which always makes me want to read and love something too.
There was a lot I liked, starting with the setting. Life in an embassy surrounded by other teens living in embassies was definitely fascinating. I also liked Grace's new friends, Noah and a girl whose name I can't recall (and I've already returned the book to the library so can't look in there).
Grace had a complicated relationship with her grandfather, and I appreciated that, although they love each other, the death of Grace's mother has contributed to their rocky relationship. There was no quick fix to heal things between Grace and her grandfather, and it was so sad to see how little they believed and trusted each other.
I enjoyed the intrigue a lot – which has me thinking that I should bump up Heist Society on my TBR – and I liked the way that the truth behind the death of Grace's mother came out. As this is the first book in a new series, I wasn't sure how much would be revealed here.
While I enjoyed the story, the writing, and many of the characters, the book lacked something that pulled me in and had me emotionally invested in the story. That isn't a bad thing, really – I certainly enjoyed the book – but it's the kind of thing that keeps me from rating a book higher or thinking back on it after I've put it down.
Still, this was a fun read, although darker than I expected. I will definitely be looking out for the sequel. Recommended.