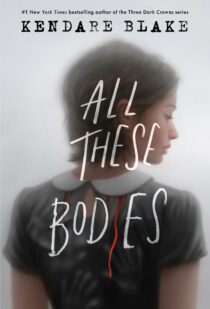 All These Bodies
By Kendare Blake Source
Received from the publisher
Published by
Quill Tree Books
on September 21, 2021
Received from the publisher in exchange for an honest review. This does not affect my opinion of the book or the content of my review.
Rating:

Summer 1958—a string of murders plagues the Midwest. The victims are found in their cars and in their homes—even in their beds—their bodies drained, but with no blood anywhere.

September 19- the Carlson family is slaughtered in their Minnesota farmhouse, and the case gets its first lead: 15-year-old Marie Catherine Hale is found at the scene. She is covered in blood from head to toe, and at first she's mistaken for a survivor. But not a drop of the blood is hers.

Michael Jensen, son of the local sheriff, yearns to become a journalist and escape his small-town. He never imagined that the biggest story in the country would fall into his lap, or that he would be pulled into the investigation, when Marie decides that he is the only one she will confess to.

As Marie recounts her version of the story, it falls to Michael to find the truth: What really happened the night that the Carlsons were killed? And how did one girl wind up in the middle of all these bodies?
I am always excited for a new Kendare Blake book, and I eagerly jumped into this one, pulled into the small town setting and the shocking events that open the story.
This was a really interesting story, but so much will depend on the reader's interpretation I think, since we don't necessarily get solid answers on the page. There is a paranormal aspect to this story, but to me it was so subtle and crept up on me. And I think because so much of the story is from Michael's perspective, and his conversations with Marie, it's up to the reader to decide what is the truth and what really happened, which can be frustrating for me when it comes to mysteries.
But I liked this one quite a bit. The writing was strong, the story and characters were interesting, and the book surprised me in its approach. I liked reading something that felt different. It isn't a quick-paced, page-turning thriller; it felt like a more character-driven contemplative story, and those can sometimes be a struggle for me but the hint of the paranormal added a little twist for me.
In my opinion, you can't go wrong with Kendare Blake books!