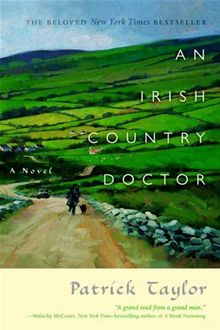 An Irish Country Doctor
By Patrick Taylor Series:
Irish Country #1
Source
Purchased
Published by
Forge
on February 6, 2007
Rating:

Cover image and synopsis from Goodreads:

Barry Laverty, M.B., can barely find the village of Ballybucklebo on a map when he first sets out to seek gainful employment there, but already he knows that there is nowhere he would rather live than in the emerald hills and dales of Northern Ireland. The proud owner of a spanking-new medical degree and little else in the way of worldly possessions, Barry jumps at the chance to secure a position as an assistant in a small rural practice.

At least until he meets Dr. Fingal Flahertie O'Reilly.

The older physician, whose motto is to never let the patients get the upper hand, has his own way of doing things. At first, Barry can't decide if the pugnacious O'Reilly is the biggest charlatan he has ever met, or the best teacher he could ever hope for. Through O'Reilly Barry soon gets to know all of the village's colorful and endearing residents, including:

A malingering Major and his equally hypochondriacal wife;

An unwed servant girl, who refuses to divulge the father of her upcoming baby;

A slightly daft old couple unable to marry for lack of a roof;

And a host of other eccentric characters who make every day an education for the inexperienced young doctor.

Ballybucklebo is long way from Belfast, and Barry is quick to discover that he still has a lot to learn about the quirks and traditions of country life. But with pluck and compassion and only the slightest touch of blarney, he will find out more about life--and love--than he ever imagined back in medical school.
This was a fun, light-hearted book set in a small town in Ireland in the mid-20th century. It was a funny, quirky read.
There were some clashes of opinion between the young Dr. Laverty, fresh from med school, and the older, more experienced Dr. O'Reilly, at least in the beginning. I liked Dr. Laverty's willingness to question Dr. O'Reilly's methods – he wanted to learn from Dr. O'Reilly but when he thought the older doctor's methods contradicted what he had learned in school, he was not shy to speak up about it. Of course, most times Dr. O'Reilly's methods seemed to be the only effective ways to treat his small-town, countryside patients.
There is the beginning of a romance for Dr. Laverty, which I suspect will be expanded upon in the rest of the series (I believe there are six books total). Patricia is an engineering student, which is very impressive, given the time period of the novel, and she makes it clear to him that her education and career are very important to her. I liked that! She was funny, intelligent, and independent. I look forward to reading more about her when I pick up the next book.
I would recommend this if you're looking for something light-hearted and humorous that you can put down and then pick up a few days later without feeling as though you've lost your place. I was not very compelled to read this, as there wasn't much drama to drive the story, but it was an enjoyable, leisurely read.