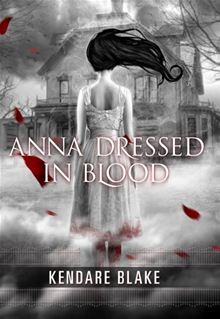 Anna Dressed in Blood
By Kendare Blake Series:
Anna #1
Source
Purchased
Published by
Tor Teen
on October 17, 2011
Rating:

Cas Lowood has inherited an unusual vocation: He kills the dead.

So did his father before him, until he was gruesomely murdered by a ghost he sought to kill. Now, armed with his father's mysterious and deadly athame, Cas travels the country with his kitchen-witch mother and their spirit-sniffing cat. They follow legends and local lore, destroy the murderous dead, and keep pesky things like the future and friends at bay.

Searching for a ghost the locals call Anna Dressed in Blood, Cas expects the usual: track, hunt, kill. What he finds instead is a girl entangled in curses and rage, a ghost like he's never faced before. She still wears the dress she wore on the day of her brutal murder in 1958: once white, now stained red and dripping with blood. Since her death, Anna has killed any and every person who has dared to step into the deserted Victorian she used to call home.

Yet she spares Cas's life.
I heard about this book through the Chapters Teen Fiction blog.
I loved this book. I was sucked in from the very first page! We meet Thesius Cassio Lowood – just call him Cas – who has taken up his father's ghost-killing profession. Cas and his mom – who is a bit of a witch – move from town to town while he hunts down and dispatches murderous ghosts. They move in, he does the job, and they move on. Cas doesn't allow himself to have friends.
When they arrive in Thunder Bay (Canada!), following up on a lead Cas was given by a contact of his, things change. Suddenly Cas has made friends, and the ghost that he has come to kill – Anna Korlov – is stronger and more fearsome than what he has faced before.
The supernatural element to this book was really well done. Cas doesn't have all the answers, but he knows that he has to do what he does. The hows and whys aren't necessarily his concern, and so I liked that the author didn't try to over-explain everything – I liked that there was still the element of mystery.
There is some horror in this book – not too much, but enough to satisfy me. Characters die and there are some gruesome passages, and since I was hoping to be a little creeped out by this book, I enjoyed those sections. If that isn't really your thing, though, don't worry – I didn't think there was all that much horror/gore here, and I wouldn't want that to hold anyone back from reading this book.
Paranormal romance is not my usual reading material, and while I suppose there is definitely some of that going on in this book, I think it was well done. It was believable within the world that the author created, and since the characters in this book are teenagers, there's not really anything more than a kiss or two happening.
I really liked Cas. He was a bit snarky and funny, and also sympathetic: I could understand why he wanted to keep people at an arm's length, and was touched by the back story about his father's death. I also appreciated that Cas and his mother were a bit of a team. It was a nice change from novels in which parental figures are kept in the dark about what their children are doing, often appearing ridiculously ignorant.
There are some good secondary characters – Thomas, Carmel, Morfran – but the other major character in this book is Anna Korlov, 'Anna Dressed in Blood'. While she has definitely been killing people in her house for years, there is something about her that gets to Cas. As we learn more about Anna, believe it or not, I came to like her. I know, she's a murderous ghost, but the more I read this book, the more I liked her.
This is a must-read for fans of supernatural YA novels!