By Kendare Blake
Source: ARC borrowed from Kathy
Publication Date: September 10, 2013 (according to Goodreads)
My Rating: 4 / 5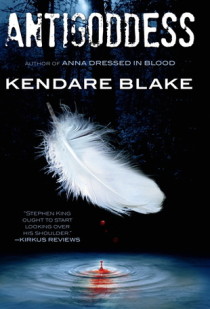 I was soooo excited to read this one from the very moment that I heard about it! I loved Kendare Blake's previous books (Anna Dressed in Blood and Girl of Nightmares) oh so much, and when I learned that she was writing a new trilogy, I knew I had to read it.
Summary from Goodreads:
The Goddess War begins in Antigoddess, the first installment of the new series by acclaimed author of Anna Dressed in Blood, Kendare Blake.

Old Gods never die…

Or so Athena thought. But then the feathers started sprouting beneath her skin, invading her lungs like a strange cancer, and Hermes showed up with a fever eating away his flesh. So much for living a quiet eternity in perpetual health.

Desperately seeking the cause of their slow, miserable deaths, Athena and Hermes travel the world, gathering allies and discovering enemies both new and old. Their search leads them to Cassandra—an ordinary girl who was once an extraordinary prophetess, protected and loved by a god.

These days, Cassandra doesn't involve herself in the business of gods—in fact, she doesn't even know they exist. But she could be the key in a war that is only just beginning.

Because Hera, the queen of the gods, has aligned herself with other of the ancient Olympians, who are killing off rivals in an attempt to prolong their own lives. But these anti-gods have become corrupted in their desperation to survive, horrific caricatures of their former glory. Athena will need every advantage she can get, because immortals don't just flicker out.

Every one of them dies in their own way. Some choke on feathers. Others become monsters. All of them rage against their last breath.

The Goddess War is about to begin.
I was a bit nervous going in to this because I'm really unfamiliar with mythology. I don't remember any of it from school (I don't even remember if I studied it in school, yikes!) and I don't usually like to stop and look things up when I'm in the middle of a book. I feel like all of the important things that I should know to enjoy a story need to be in the book itself. I was worried that I'd need to take a break to look up who these gods were.
But.
I'm pleased to say that I found the mythology was explained enough for me to enjoy the story. Maybe you'll get much more out of this book than I did if you are already familiar with the mythology, but I didn't find my lack of knowledge to be an obstacle in any way.
I really enjoyed the blending of the ancient mythology with the modern day setting. It gave the story such a broad, sweeping scope.
The action and violence in some of the scenes were just what I've come to expect from Kendare Blake! Those elements of the book did not disappoint!
As I mentioned, I love Blake's Anna duology, and for that reason, I had very high expectations going into this book. I don't know that any book could have truly lived up to those expectations, though. I really enjoyed this book but I didn't love it or its characters the way I loved Cas, Anna, Thomas, and Carmel from the Anna series, but you shouldn't take that to mean that I didn't like this book or its characters. I just really really really love the Anna series!! (And if you haven't read those books yet but are a paranormal/supernatural fan, you should get your hands on them asap!)
I really liked this book from the start, and felt caught up in the story and the characters, but I felt that everything slowed down when switching from Athena's parts of the story to Cassandra's. Perhaps that's just because I liked Athena a lot more than I liked Cassandra! I found many of the characters to be interesting and, in the case of Athena and Hermes, really likeable. They're not perfect but they're fascinating and the dialogue between them felt snappy and was fun to read. Others though, like Cassandra and Aiden, were less interesting to me. They weren't unlikeable, but I kept finding myself wanting the story to turn back to Athena.
Overall, I loved this book and think it's another great story with some kick ass characters from an author I love! I absolutely cannot wait to see where this story goes next. I will totally be getting my own copy when this comes out, and then of course I'll be reading the sequel!