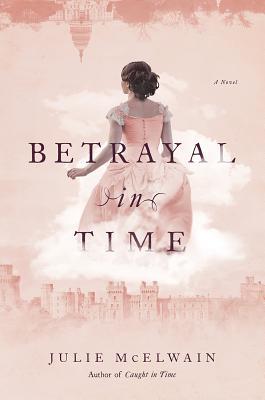 Betrayal In Time
By Julie McElwain Series:
Kendra Donovan #4
Source
Library
Published by
Pegasus Books
on July 2, 2019
Rating:

February 1816: A race through the icy, twisting cobblestone streets of London ends inside an abandoned church—and a horrific discovery. Bow Street Runner Sam Kelly is called to investigate the grisly murder of Sir Giles Holbrooke, who was left naked and garroted, with his tongue cut out. Yet as perplexing as that crime is, it becomes even stranger when symbols that resemble crosses mysteriously begin to appear across the dead man's flesh during autopsy. Is it a message from the killer?

Sam turns to the one person in the kingdom who he believes can answer that question and solve the bizarre murder—the Duke of Aldridge's odd but brilliant ward, Kendra Donovan.

While Kendra has been trying to adapt to her new life in the early nineteenth century, she is eager to use her skills as a twenty-first century FBI agent again. And she will need all her investigative prowess, because Sir Giles was not an average citizen. He was one of England's most clever spymasters, whose life had been filled with intrigue and subterfuge.

Kendra's return to the gritty streets and glittering ballrooms of London takes her down increasingly dangerous paths. When more bodies are discovered, murdered in the same apparently ritualistic manner as Sir Giles, the American begins to realize that they are dealing with a killer with an agenda, whose mind has been twisted by rage and bitterness so that the price of a perceived betrayal is death.
I really enjoy this series, so I was excited when my library hold on this newest entry was available!
I wrote on Litsy that four books into this series, I still found the mystery and Kendra's efforts to live within the constraints on women in the 1800s compelling. While she is still struggling with being a woman from our time in 1816, there was also the beginning of a feeling of belonging in the Duke's world. The more Kendra grapples with the idea that she may not get back to her time, and be stuck in the 1800s, the more interested I was (although I hope that the mystery of how and why she traveled from our time to 1815 is solved by the time this series ends).
The mystery in this one was well done, and since I wished that we got to see more of Sam Kelly in the previous book, I was happy that he seemed more involved in this book, along with Kendra's friend Rebecca.
I will keep reading this series as long as Julie McElwain keeps writing it! And I'm already looking forward to book five!