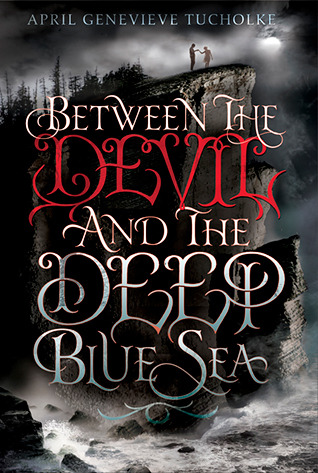 Between the Devil and the Deep Blue Sea
By April Genevieve Tucholke Series:
Between #1
Source
Library
Published by
Dial
on August 15, 2013
Rating:

Cover image and summary from Goodreads:

You stop fearing the devil when you're holding his hand…

Nothing much exciting rolls through Violet White's sleepy, seaside town… until River West comes along. River rents the guest house behind Violet's crumbling estate, and as eerie, grim things start to happen, Violet begins to wonder about the boy living in her backyard.

Is River just a crooked-smiling liar with pretty eyes and a mysterious past? Or could he be something more?

Violet's grandmother always warned her about the Devil, but she never said he could be a dark-haired boy who takes naps in the sun, who likes coffee, who kisses you in a cemetery... who makes you want to kiss back.

Violet's already so knee-deep in love, she can't see straight. And that's just how River likes it.

Blending faded decadence and the thrilling dread of gothic horror, April Genevieve Tucholke weaves a dreamy, twisting contemporary romance, as gorgeously told as it is terrifying—a debut to watch.
This book has been on my TBR since it first came out. I was really intrigued by its description as a gothic horror. Those words will always draw me to a book! I ended up reading the entire book in one day. I loved it!
Immediately, I adored the setting and the atmosphere: Violet and her twin brother Luke living alone in their giant old mansion, while their artist parents are off in Europe. The house was full of history and family heirlooms and shadows, but empty of people, and with the family wealth a thing of the past, they were often without electricity. This all made the story feel like it took place somewhere in the past, rather than present day, and I loved it!
Adding to the somewhat spooky atmosphere was the arrival of River, a handsome young stranger who wants to rent the guest house from Violet and Luke. Immediately, Violet is drawn to him. Even Luke, who is not the nicest, friendliest person, seems pulled in by River. But there's definitely something off about River, and when really strange things begin happening in Violet's small town, she knows that she needs to get to the bottom of it all.
I love the way this story blended gothic horror with a touch of the paranormal, and with Violet's – and River's – family drama. Stories featuring family secrets are always interesting!
I also liked many of the characters: Violet, Luke, Jack, Sunshine – and as something happened towards the end of the book that raised the stakes for everyone to life or death, I was so invested in the outcome and what would happen to everyone that I couldn't put the book down.
The biggest issue for me was River's character and his relationship with Violet. River was handsome and mysterious, but also dangerous and a liar. I was never sure that he could be trusted. And there were things that Violet learns that he's done that made me furious! I wanted to yell at her to stay away, and yet I too was drawn to this character and curious about who he really was.
This was such a great book and I can't wait to get my hands on a copy of the sequel, Between the Spark and the Burn. Definitely recommended!