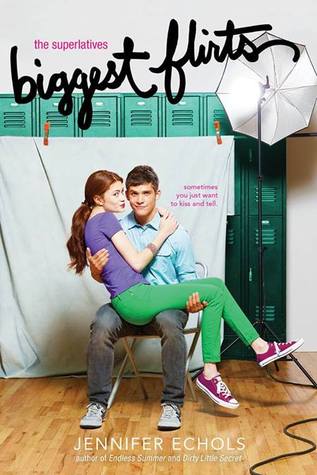 Biggest Flirts
By Jennifer Echols Series:
Superlatives #1
Source
Received from the publisher via Edelweiss
Published by
Simon Pulse
on May 20, 2014
Received from the publisher via Edelweiss in exchange for an honest review. This does not affect my opinion of the book or the content of my review.
Rating:

From Goodreads:

Tia and Will's lives get flipped upside down when they're voted Yearbook's Biggest Flirts in this sassy novel from the author of Endless Summer and The One That I Want.

Tia just wants to have fun. She's worked hard to earn her reputation as the life of the party, and she's ready for a carefree senior year of hanging out with friends and hooking up with cute boys. And her first order of business? New guy Will. She can't get enough of his Midwestern accent and laidback swagger.

As the sparks start to fly, Will wants to get serious. Tia's seen how caring too much has left her sisters heartbroken, and she isn't interested in commitment. But pushing Will away drives him into the arms of another girl. Tia tells herself it's no big deal…until the yearbook elections are announced. Getting voted Biggest Flirts with Will is, well, awkward. They may just be friends, but their chemistry is beginning to jeopardize Will's new relationship—and causing Tia to reconsider her true feelings. What started as a lighthearted fling is about to get very complicated…
I've only read one other book by Jennifer Echols, Such a Rush, which I liked, so I was looking forward to this book. The premise of this one sounded really cute, and I desperately needed a fun, cute book after reading two heavy books in a row!
This book was fun! I was surprised by how much I liked it, because it took me a little while to get into it. I liked the characters though – man, were they flawed! And that's what makes them a zillion times more interesting to me than cookie-cutter characters who don't have any problems. And Tia and Will would call each other out on their issues, which was great.
I also loved reading about Tia being in the band. It was fun and different. And maybe it's just because I've been dealing with -30 Celsius temperatures for what feels like forever, but the hot, sunny Florida setting had me dreaming of warmer weather and my summer wardrobe.
There were parts of the story that I wish had been explored further, like Tia's family. There was a lot mentioned about her sisters and their relationships, and her parents and their relationship, which all seemed to have been huge influences on Tia, but I was expecting more of a resolution than I got.  I also wanted to know what happened school-wise, e.g. did Tia take the SATs and apply to college?
This is part of a series, Superlatives, and I'm really looking forward to reading the other two books, which will focus on characters introduced in this story. I think this is a good pick if you're looking for a fun contemporary read!