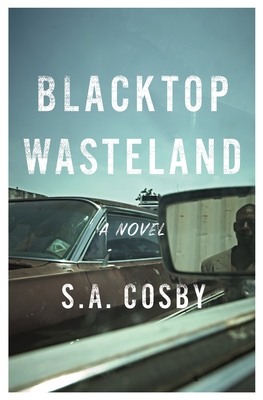 Blacktop Wasteland
By S.A. Cosby Source
Library
Published by
Flatiron Books
on July 14, 2020
Rating:

Beauregard "Bug" Montage: husband, father, honest car mechanic. But he was once known - from North Carolina to the beaches of Florida - as the best getaway driver on the East Coast. Just like his father, who disappeared many years ago.

After a series of financial calamities (worsened by the racial prejudices of the small town he lives in) Bug reluctantly takes part in a daring diamond heist to solve his money troubles - and to go straight once and for all. However, when it goes horrifically wrong, he's sucked into a grimy underworld which threatens everything, and everyone, he holds dear . . .
This had been on my radar for a long time because I kept seeing fantastic reviews. It took a while, but I was able to get a copy from my library, and I eagerly started reading.
It took me a while to get into this, but once I did, wow! I didn't want to put it down. This was a propulsive, tense, nail-biting story and I so enjoyed reading it. This was an edge-of-your-seat thriller that combined cars, heists, family ties, and underworld ties, told in a strong voice with vivid writing.

I wasn't entirely sure what to expect of this one going in but once it grabbed me, it didn't let go. Highly recommended! I am tracking down S.A. Cosby's other books right away, and am eagerly anticipating his 2021 book, Razorblade Tears.