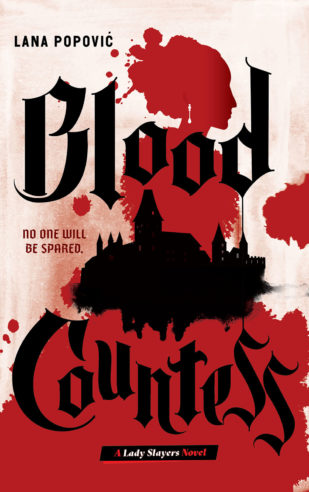 Blood Countess
By Lana Popović Series:
Lady Slayers #1
Source
Received from the publisher
Published by
Harry N. Abrams
on January 28, 2020
Received from the publisher in exchange for an honest review. This does not affect my opinion of the book or the content of my review.
Rating:

A historical YA horror novel based on the infamous real-life inspiration for Countess Dracula.

In 17th century Hungary, Anna Darvulia has just begun working as a scullery maid for the young and glamorous Countess Elizabeth Báthory. When Elizabeth takes a liking to Anna, she's vaulted to the dream role of chambermaid, a far cry from the filthy servants' quarters below. She receives wages generous enough to provide for her family, and the Countess begins to groom Anna as her friend and confidante. It's not long before Anna falls completely under the Countess's spell—and the Countess takes full advantage. Isolated from her former friends, family, and fiancé, Anna realizes she's not a friend but a prisoner of the increasingly cruel Elizabeth. Then come the murders, and Anna knows it's only a matter of time before the Blood Countess turns on her, too.
I was so excited to read this book, based on the synopsis and eye-catching cover! I mean, "A historical YA horror novel based on the infamous real-life inspiration for Countess Dracula" totally sounds like my kind of story!
I found it to be a quick read, initially. I thought I got a good sense of the place and who Anna was. But my reading slowed as I began to feel a little bored with the story at times. The pace was slow, and I kept waiting for something to happen. Although the synopsis says it's a YA horror novel, it didn't feel like one to me. Certainly, Elizabeth does plenty of horrific things, but not many of them happened on the page, and so I never actually felt like I was reading a horror story or anything remotely frightening. So this was perhaps a case where I had too high or misplaced expectations that weren't met.
So while parts of the story disappointed me, the elements that I enjoyed were strong enough to leave me with a generally positive impression of this book. And I'm definitely looking forward to more 'Lady Slayers' stories!