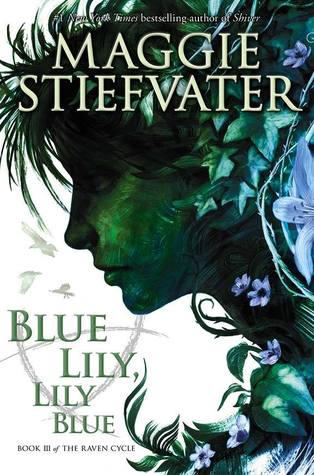 Blue Lily, Lily Blue
By Maggie Stiefvater Series:
The Raven Cycle #3
Source
Purchased
Published by
Scholastic Press
on October 21, 2014
Rating:

Cover image and summary from Goodreads:

There is danger in dreaming. But there is even more danger in waking up.

Blue Sargent has found things. For the first time in her life, she has friends she can trust, a group to which she can belong. The Raven Boys have taken her in as one of their own. Their problems have become hers, and her problems have become theirs.

The trick with found things though, is how easily they can be lost.

Friends can betray.
Mothers can disappear.
Visions can mislead.
Certainties can unravel.
This is the third book in Maggie Stiefvater's series, The Raven Cycle (following The Raven Boys and The Dream Thieves), which is my favourite series. I love the characters so much, and I love the story, so I pretty much expected to love this book.
The thing about these books is that the story, as interesting and unpredictable as it is, is made so much better by the characters created by Stiefvater. Blue, Gansey, Adam, Ronan, Noah and the supporting characters are so fully developed and feel so real that I am so much more interested in the plot than I otherwise would be if the characters weren't so wonderful. I care so much more about what happens next because I'm so in love with these characters.
Not only that, but Stiefvater's writing is absolutely gorgeous. I forced myself to take my time reading this book, rather than rush though it because I wanted to savour the writing and the story. If you've read any of her books, then you know that Stiefvater's writing is excellent, but in my opinion, this series is her best work (or perhaps I'm biased because it's my favourite). If you've enjoyed her other books, you should definitely pick up The Raven Cycle series.
And now the long wait for the next book begins. I found myself in tears at the end of Blue Lily, Lily Blue. There are moments that are absolutely heartbreaking. The story, as with The Raven Boys and The Dream Thieves, is a mixture of something uniquely spooky, mysterious, and magical, tied together with beautiful writing and fascinating characters. I could read these books over and over (and I probably will, before the final book comes out) and probably find something new in them each time.
This is absolutely 100% recommended!