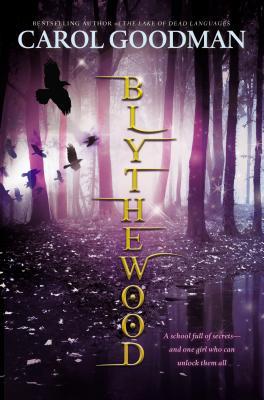 Blythewood
By Carol Goodman Series:
Blythewood #1
Source
Library
Published by
Viking Juvenile
on October 8, 2013
Rating:

Cover image and synopsis from Goodreads:

Welcome to Blythewood.

At seventeen, Avaline Hall has already buried her mother, survived a horrific factory fire, and escaped from an insane asylum. Now she's on her way to Blythewood Academy, the elite boarding school in New York's mist-shrouded Hudson Valley that her mother attended—and was expelled from. Though she's afraid her high society classmates won't accept a factory girl in their midst, Ava is desperate to unravel her family's murky past, discover the identity of the father she's never known, and perhaps finally understand her mother's abrupt suicide. She's also on the hunt for the identity of the mysterious boy who rescued her from the fire. And she suspects the answers she seeks lie at Blythewood.

But nothing could have prepared her for the dark secret of what Blythewood is, and what its students are being trained to do. Haunted by dreams of a winged boy and pursued by visions of a sinister man who breathes smoke, Ava isn't sure if she's losing her mind or getting closer to the truth. And the more rigorously Ava digs into the past, the more dangerous her present becomes.

Vivid and atmospheric, full of mystery and magic, this romantic page-turner by bestselling author Carol Goodman tells the story of a world on the brink of change and the girl who is the catalyst for it all.
I was really intrigued by this book's premise, I think because parts of it reminded me of Libba Bray's The Gemma Doyle trilogy, which I love (historical fiction, boarding school, magic). That said, I went in expecting to totally love this book.
While I found a lot to like here, it wasn't a love connection. It took me a while to get into this one, but I really liked the characters right away. There were, of course, a couple of mean girls at Blythewood, but for the most part the MC seemed to have lucked out as far as roommates go and made some friends at the school, despite her fears about her mother's reputation and the disparity between herself and the other girls.
I also liked the setting. I love historical fiction and it was very cool to see the way that some real-life historical events were woven into this story.
The magic of the bells and the fairies, darklings, and other creatures was really interesting. I liked reading about their relationships to each other. The whole bells aspect was very cool and I don't think I've read anything quite like that before. At times, though, I felt that I was experiencing a bit of an info dump.
There were some really fun, creepy elements of the story, and the villain was wonderfully sinister. I just wanted to like this more than I did. I wanted to LOVE it, but in the end it's a very strong like. I'm certainly looking forward to reading the next book. Recommended if you like magic, mystery, and romance!