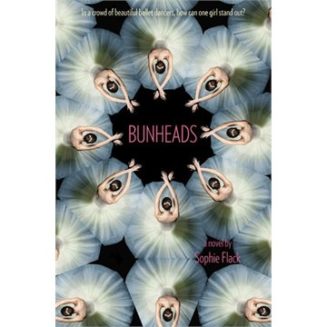 Bunheads
By Sophie Flack Source
Library
Published by
Poppy
on October 10, 2011
Rating:

As a dancer with the ultra-prestigious Manhattan Ballet Company, nineteen-year-old Hannah Ward juggles intense rehearsals, dazzling performances and complicated backstage relationships. Up until now, Hannah has happily devoted her entire life to ballet.

But when she meets a handsome musician named Jacob, Hannah's universe begins to change, and she must decide if she wants to compete against the other "bunheads" in the company for a star soloist spot or strike out on her own in the real world. Does she dare give up the gilded confines of the ballet for the freedoms of everyday life?
This book has been on my TBR for a while, and apparently is the basis for a television show of the same name!
The premise of this book made me think of the movie Center Stage, which I love. I hoped it would offer a fun look behind the scenes of the world of ballet, which it did. The book also showed the hard work and dedication that is required of anyone hoping to be a dancer.
I loved reading about Hannah's life as a dancer, learning about the different rituals that Hannah and the other dancers had before a performance. I was also interested in the off-stage business of the ballet, the competition among dancers and trying to be promoted from the corps to a soloist, and of course the body image issues and pressures that they face to be able to fit into the aesthetic of the ballet world.
As the story progresses, it seems clear that Hannah is becoming disillusioned with dancing. While she dreamed of dancing when she was young and has worked so hard to get where she was, I could definitely understand her frustrations at feeling that her hard work was going unnoticed, especially when the physical and mental toll was so high. Meeting and falling for Jacob, a student at NYU, seemed to intensify Hannah's internal struggle.
Jacob grew understandably frustrated because, while Hannah cared about him and wanted to be with him, she was so dedicated to her career that she either had no time to spend with him (she was constantly rehearsing and training and performing), or when she did have time, she was too exhausted. Jacob came in and out of Hannah's life but he kept trying to push her to experience more in life. Dating him was a completely new experience for Hannah.
I could understand Jacob's frustration, feeling like Hannah kept blowing him off or turning down his invitations, but at the same time, I felt for Hannah. She had worked so hard and for so long, having been so certain in what she wanted, and suddenly questioning it all was confusing and difficult for her. At the same time, I remember when I was applying to universities, wondering how I could possibly know at that point what I would want to study for the next four years, let alone potentially the rest of my life. That Hannah had made her decision and started dancing so young was amazing to me, and that she would think about wanting something different seemed only natural.
I really liked this book. It was a fast, fun read that held my interest from start to finish. I definitely recommend it for fans of contemporary YA.