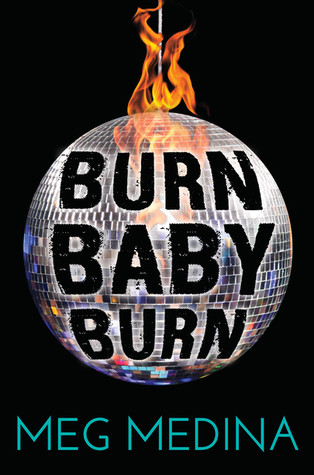 Burn Baby Burn
By Meg Medina Source
Library
Published by
Candlewick Press
on March 8, 2016
Rating:

Cover image and summary from Goodreads:

Nora Lopez is seventeen during the infamous year 1977 in New York.

After a freezing winter, a boiling hot summer explodes with arson, a blackout, and a serial killer named Son of Sam, who is shooting young people on the streets seemingly at random.

Not only is the city a disaster, but Nora has troubles of her own: her brother, Hector, is growing more uncontrollable by the day, her mother is helpless to stop him, and her father is so busy with his new family that he only calls on holidays.

And it doesn't stop there. The super's after her mother to pay their overdue rent, and her teachers are pushing her to apply for college, but all Nora wants is to turn eighteen and be on her own. There is a cute guy who started working with her at the deli, but is dating even worth the risk when the killer especially likes picking off couples who stay out too late?

Award-winning author Meg Medina transports readers to a time when New York seemed about to explode, with temperatures and tempers running high, to discover how one young woman faces her fears as everything self-destructs around her.
I'd heard really good thins about this book, and the cover was so eye-catching. I knew I had to read this one!
I loved the setting – New York City in 1977 – and all of the historical references. And Meg Medina's writing is so great and descriptive. I could feel the feat and tension from that summer, with the fear caused by the Son of Sam, and the sweltering heat and blackout adding to that sense of tension.
Nora's relationship with her mother and brother was so tough, and my heart went out to her. She had a lot to handle in her life, and it was sad to see her living in a home where she was afraid and abused by her own brother. That wasn't something that I can remember reading about before.
I liked the focus on Nora's friendship with her BFF. I've read some really good stories this year featuring female friendships and this was one of them!
Burn Baby Burn was a great read! Recommended – and now I need to track down Meg Medina's other books!