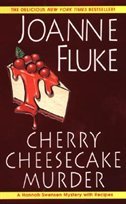 Cherry Cheesecake Murder
By Joanne Fluke Series:
Hannah Swenson #8
Source
Purchased
Published by
Kensington Publishing Corporation
on February 1, 2007
Rating:

Cover image and synopsis from Goodreads:

When Main Street in Lake Eden becomes a movie set, a clever killer rewrites the script and bakery owner Hannah Swenson, while trying to decide which marriage proposal to accept, must sift through a cast of suspects before the film wraps with an even deadlier ending.
Yes, another Hannah Swenson book! I couldn't help it – as soon as I finished Peach Cobbler Murder, I wanted to read the next book in the series right away!
I don't think I've read a book in this series that I haven't liked. That said, this one was definitely good, but I don't think it was one of my favourites.
It was fun to read about a movie being shot in Lake Eden – a few townsfolk got roles in the movie, including Hannah's cat, which I thought was cute.  I also liked reading about what goes on 'behind the scenes' on a movie set!
However, this mystery wrapped up a bit too quickly for my liking. It seemed like Hannah figured out who was responsible, confronted the person, and then Mike and the other cops showed up and it was all a done deal. I think I like it better when the denouement is drawn out a bit more!
I mentioned in my post on Peach Cobbler Murder that I thollught her romantic dilemma with her two boyfriends might be resolved in this book – it was not. Instead, a third suitor (albeit a temporary one) was introduced. Yeesh! I really expected her to accept one man's proposal over the other's in this book and destroy the love triangle that has been going on for so long.
Really, though, as much as I complain about Hannah dating two men, for over a year, and not being exclusive with either of them, I do appreciate that Hannah defends her choice not to choose between the two by saying she will settle down and marry when she's ready, not just because it's expected of her. She is quite independent and strong-willed and I admire that about her.
Overall, this was a good, fun read, but it was lacking the excitement of other Hannah mysteries. However, that's just my opinion! If you're reading the Hannah books, pick this one up and then tell me what you thought!