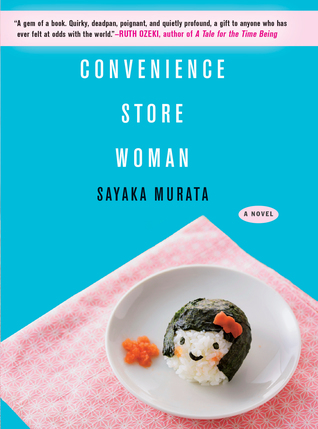 Convenience Store Woman
By Sayaka Murata, Ginny Tapley Takemori (Translator) Source
Library
Published by
Grove Press
on June 12, 2018
Rating:

Keiko Furukura had always been considered a strange child, and her parents always worried how she would get on in the real world, so when she takes on a job in a convenience store while at university, they are delighted for her. For her part, in the convenience store she finds a predictable world mandated by the store manual, which dictates how the workers should act and what they should say, and she copies her coworkers' style of dress and speech patterns so that she can play the part of a normal person. However, eighteen years later, at age 36, she is still in the same job, has never had a boyfriend, and has only few friends. She feels comfortable in her life, but is aware that she is not living up to society's expectations and causing her family to worry about her. When a similarly alienated but cynical and bitter young man comes to work in the store, he will upset Keiko's contented stasis—but will it be for the better?
I was on the library holds list for this book for months! I've long forgotten where I first heard about it, but I was so intrigued by the pretty, eye-catching cover and its description.
I finally received my copy from the library (I read the book on the Libby app. I keep saying I don't like reading on my phone, but I keep using Libby because it's so convenient for reading on the bus, waiting at the bus stop, on my lunch hour, etc.).
This turned out to be a very quick read. It was strange but compelling, and I was drawn to Keiko. In some ways, I identified with aspects of her personality.
I really enjoyed Convenience Store Woman. It made me think, and I always love reading translated works which show me something about another person's culture or lived experience that is different from mine.
While I think this may not be everyone's taste I quite liked this. It was well worth the library wait. Recommended!