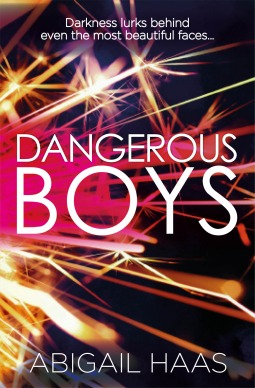 Dangerous Boys
By Abigail Haas Source
Purchased
Published by
Simon & Schuster UK
on August 14, 2014
Rating:

Cover image and summary from Goodreads:

Three teens venture into the abandoned Monroe estate one night; hours later, only two emerge from the burning wreckage. Chloe drags one Reznick brother to safety, unconscious and bleeding; the other is left to burn, dead in the fire. But which brother survives? And is his death a tragic accident? Desperate self-defense? Or murder?

Chloe is the only one with the answers. As the fire rages, and police and parents demand the truth, she struggles to piece together the story of how they got there-a story of jealousy, twisted passion, and the darkness that lurks behind even the most beautiful of faces…
After reading Dangerous Girls, which was dark and twisty, I knew I wanted to read Abigail Haas' next book!
Like Dangerous Girls, I don't want to say too much here and spoil the plot. I think I can safely say that if you like dark, twisty mysteries, this is a book that you should read!
Chloe was such an interesting character. She had all of these plans to get out of her small town, but her plans get put on hold for reasons. I could feel her claustrophobia, her frustration and fear of being trapped in her town, and her future slipping away. Complicating things for Chloe were Ethan and his brother, Owen. The boys were so different from each other, and I knew everything was going to come to a violent conclusion. I couldn't read fast enough to get to the end! I thought I knew from the book's opening where the story would go, but as I read on, I wasn't so sure!
There was a lot of food for though as far as the notion of 'dangerous boys'. Throughout the book, I saw men in positions of authority and power, how they wielded and exploited power, authority, connections to get something they wanted – or to get away with something. It was frustrating but interesting to read about in the context of Chloe's story.
I couldn't help but compare this book to Dangerous Girls. While I think Dangerous Girls had a more shocking twist, even if I predicted it, Dangerous Boys was just as exciting to read, and just as difficult to put down. Highly recommended!