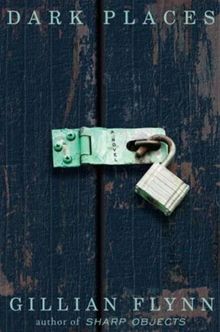 Dark Places
By Gillian Flynn Source
Purchased
Published by
Shaye Areheart Books
on May 5, 2009
Rating:

Cover image and synopsis from Goodreads:

Libby Day was seven when her mother and two sisters were murdered in "The Satan Sacrifice" of Kinnakee, Kansas. She survived—and famously testified that her fifteen-year-old brother, Ben, was the killer. Twenty-five years later, the Kill Club—a secret secret society obsessed with notorious crimes—locates Libby and pumps her for details. They hope to discover proof that may free Ben. Libby hopes to turn a profit off her tragic history: She'll reconnect with the players from that night and report her findings to the club—for a fee. As Libby's search takes her from shabby Missouri strip clubs to abandoned Oklahoma tourist towns, the unimaginable truth emerges, and Libby finds herself right back where she started—on the run from a killer.
This is the second of Gillian Flynn's books that I've read, the first being Sharp Objects, which was an interesting read.
Let me say right off the bat that Libby Day is not very likable. At least, I didn't think so. Perhaps it's understandable, given her childhood, but I found it difficult to care about her. She just seemed so aimless and useless. As the story progressed, I began to sympathize somewhat, but I still wouldn't say that I liked her.
Libby lives day to day, without planning for the future at all. She has no money and when she is contacted by The Kill Club, she sees it as an opportunity to make some quick cash by talking about her family and selling various memorabilia, e.g. old birthday cards from her mom. Then the club wants her to talk to people who may or may not have been involved, which she agrees to, for a fee of course. This leads her to question her testimony given years before, including her belief that Ben is guilty.
To be honest, I didn't really like any of the characters. The Day family members were always angry or frustrated with each other. They seemed to have a difficult life, living on a farm that wasn't making any money, barely scraping by. Although I may not have liked any of them very much, I felt bad for them.
Parts of the book were a bit vulgar for me, and there was a scene involving animal murder that I really did not like to read. I don't like when harm comes to animals in books or movies and while I understand the point that was being made with this scene, it was tough, for me, to read.
What  kept me reading was the mystery of her family's murder. I really wanted to know what happened and the author did a great job of unraveling everything. Each chapter alternates between Libby in the present day, and then her mother and her brother leading up to the events of the murder back in 1985. It was a very effective way of building suspense and I liked getting the different characters' perspectives. Often something from a 'Ben' chapter would reveal the truth about something hinted at in a different chapter.
I don't know if I would recommend this book. It was certainly interesting, and the overall mystery was well done, with an ending that I didn't entirely see coming. I guess I was just a bit put off by some of the language. I also didn't connect with any of the characters, which disappointed me, because I didn't really care one way or the other what happened to anyone. I really only kept reading out of curiosity, to find out what happened the night of the murders. I suppose my main gripe with the book is that some of the characters were just so darn unlikable, and if I can't connect with a character in a book, I have a hard time feeling drawn in and invested in the story.
However, this is just my opinion, and someone else might love this book. I have seen some positive reviews, so perhaps I'm in the minority here. If you've read it, let me know what you thought.