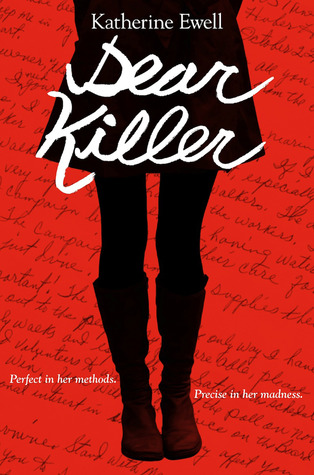 Dear Killer
By Katherine Ewell Source
Received from the publisher
Published by
Katherine Tegen Books
on April 1, 2014
Received from the publisher in exchange for an honest review. This does not affect my opinion of the book or the content of my review.
Rating:

Cover image and summary from Goodreads:

Rule One—Nothing is right, nothing is wrong.
Rule Two—Be careful.
Rule Three—Fight using your legs whenever possible, because they're the strongest part of your body. Your arms are the weakest.
Rule Four—Hit to kill. The first blow should be the last, if at all possible.
Rule Five—The letters are the law.

Kit takes her role as London's notorious "Perfect Killer" seriously. The letters and cash that come to her via a secret mailbox are not a game; choosing who to kill is not an impulse decision. Every letter she receives begins with "Dear Killer," and every time Kit murders, she leaves a letter with the dead body. Her moral nihilism and thus her murders are a way of life—the only way of life she has ever known.

But when a letter appears in the mailbox that will have the power to topple Kit's convictions as perfectly as she commits her murders, she must make a decision: follow the only rules she has ever known, or challenge Rule One, and go from there.

Katherine Ewell's Dear Killer is a sinister psychological thriller that explores the thin line between good and evil, and the messiness of that inevitable moment when life contradicts everything you believe.
This book was one of my most anticipated reads of 2014. I was really excited to receive an ARC from HCC Frenzy (check out their website for more information on the book).
There was certainly a lot to think about here, in terms of the ideas of moral nihilism (those words were used a lot in this book – if you don't know what it is when you start the book, you'll certainly know by the time you're done!), the idea of evil, the way Kit was raised, and more. I enjoyed examining those ideas and seeing how Kit and the other characters did the same.
Reading about Kit's existence as The Perfect Killer was entertaining: it was violent, thrilling, and offered an exciting and strange look into the character's mind (although I don't love the moniker). I liked the idea of the letters, although the way Kit left them at the crime scene had me scratching my head a few times (e.g. the wife who wanted The Perfect Killer to murder her husband for the insurance money – wouldn't the insurance company be able to then avoid paying? I know Kit said she removed traces of fingerprints from the letters so the police couldn't really prove who had written them, but still – I wondered about that one).
Although one of Kit's rules was to be careful, at times I found her incredibly careless. More than once, she seemed to only get away or achieve what she was going for because of sheer luck. This had me wondering if perhaps she was in some way looking to be caught, which also had me wondering if she felt some guilt or remorse. The code that Kit lived by was her mother's drilled into Kit's mind as a child. I couldn't help but wonder if her carelessness and lack of planning were some form of (perhaps subconscious) rebellion. And the more she began to question what she believed as the book went on, the more interested I became in the outcome.
I struggled to buy into her relationship with Alex, the police officer. I had a tough time believing that a policeman would befriend a teenage girl in high school, to the point of going out for meals, eating at her house, talking on the phone, etc. That said, I was certainly intrigued by what their relationship would do for Kat's identity as a killer.
I liked the book but was held back from totally loving it. I think the climax would have had more of an emotional impact for me if some of the relationships and characters had felt more fleshed out and developed (e.g. Kit's relationship with Alex, and her relationship with her father).
Overall, I really liked this, and the peek inside Kit's mind was unique. She's not one I'll be forgetting any time soon! And I can't wait to see what the author writes in the future. Definitely a recommended read.