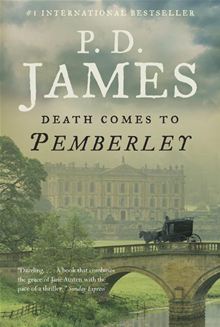 Death Comes to Pemberley
By P.D. James Source
Library
Published by
Alfred A. Knopf
on December 6, 2011
Rating:

The world is classic Jane Austen. The mystery is vintage P.D. James.

The year is 1803, and Fitzwilliam Darcy and Elizabeth Bennet have been married for six years. There are now two handsome and healthy sons in the nursery, Elizabeth's beloved sister Jane and her husband Bingley live nearby and the orderly world of Pemberley seems unassailable. But all this is threatened when, on the eve of the annual autumn ball, the guests are preparing to retire for the night when a chaise appears, rocking down the path from Pemberley's wild woodland. As it pulls up, Lydia Wickham - Elizabeth Bennet's younger, unreliable sister - stumbles out screaming that her husband has been murdered.

Two great literary minds - master of suspense P.D. James and literary icon Jane Austen - come together in Death Comes to Pemberley, a bestselling historical crime fiction tribute to Pride and Prejudice. Conjuring the world of Elizabeth Bennet and Mark Darcy and combining the trappings of Regency British society with a classic murder mystery, James creates a delightful mash-up that will intrigue any Janeite.

From the bestselling author of The Murder Room, Children of Men and A Certain Justice, comes a wonderful mixture of the nation's greatest romance and best-loved crime fiction. In 2013, this novel was adapted as a miniseries by the BBC, starring Matthew Rhys as Darcy, Anna Maxwell Martin as Elizabeth Bennet and Jenna Coleman as Lydia Wickham.
I have read Pride and Prejudice a couple of times, have seen a couple of movie adaptations, and also read Pride and Prejudice and Zombies. When I heard about this book, I was apprehensive, as I've never read anything by P.D. James, but  I was also eager to to read more about Elizabeth and Darcy and their world. I put my name on the library's waiting list and snatched up the e-book when it became available.
I didn't love this book, but I liked it. Despite the mystery, it wasn't a book I could read quickly. It was a more leisurely read, and because I already knew some of the characters, it was a comfortable read as well. It was nice to slip back into the world created in Pride and Prejudice, with familiar characters such as Jane, Bingley, Elizabeth, and Darcy.
I've read a fair number of negative reviews, but I think I was able to enjoy this because I'm nowhere near an expert in Jane Austen and haven't read Pride and Prejudice in quite some time, and (I'm almost embarrassed to admit this) I haven't read anything else by Jane Austen, so I am certainly no expert on her writing or works. I felt like I could enjoy this book as an extension of a book I'd read with characters that I recognized.
I will admit that it took me about 75-100 pages to feel like I was really getting into it, and to me, that's too long. If I don't feel like I've been grabbed by a book within the first few pages, it becomes a bit of chore to pick it up again and read it, and I did feel that way, initially, with this one.
The mystery behind the murder in the woods of Pemberley, and Wickham's involvement, unravelled at its own pace but I felt that the killer's identity was hinted throughout. However, there is more than just the killer's identity to discover in this book, as it turns out the murder is wrapped up in a larger secret or plot, which involves a number of characters. It was interesting to see how so many characters in the book were, in some way, involved.
I enjoyed reading about the legal system of the time, as well as the development of certain medical techniques that were useful in determining time and cause of death, but there was also a lot of exposition that just felt clunky at times.
Overall, though, I liked this book. I didn't race through it, but it all tied together in a fairly happy ending, and who can complain about that?