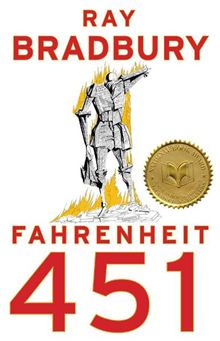 Fahrenheit 451
By Ray Bradbury Source
Library
Published by
Ballantine Books
on October 1953
Rating:

Guy Montag is a fireman. His job is to destroy the most illegal of commodities, the printed book, along with the houses in which they are hidden. Montag never questions the destruction and ruin his actions produce, returning each day to his bland life and wife, Mildred, who spends all day with her television "family." But when he meets an eccentric young neighbor, Clarisse, who introduces him to a past where people didn't live in fear and to a present where one sees the world through the ideas in books instead of the mindless chatter of television, Montag begins to question everything he has ever known.
This is a book that was recommended to me by my husband. I'd heard of it, and knew it was a classic, but had never read it. I borrowed it from the library to read over the Thanksgiving weekend.
This was a very quick read but the world Bradbury created was very well-developed. It was a world that made me sad, though – no one was allowed to have books, people drove way too fast for the thrill, and television had grown so large as to take up entire walls of people's homes. No one seemed to connect with each other at all – even Montag and his wife, Mildred, didn't seem to talk or spend much time together.
Montag is a fireman, which in this world means he sets things on fire, rather than putting out fires: he and his fellow firemen burn the homes of those who have been hiding books (and of course burn the books themselves). He is content with his job, until an encounter with a young neighbour raises some questions and he begins to wonder, to question. He eventually begins to hide books in his home and read them, resulting in actions that put his life in danger.
As someone who loves to read, I was definitely intrigued by the idea of a world in which not only did no one read, but in which no one was allowed to own books. Reading is such an important, integral part of my life and I am super grateful that no one dictates to me what I can or can't read, and where I can pretty much read anything I want when I want.
The nature of television in Montag's world was interesting, and perhaps not that far fetched, in an era of televisions that are getting bigger and bigger, with hundreds of channels where there is always something (and yet it can feel like there is nothing) on.
I like that the story didn't end with a perfectly wrapped up story where Montag overthrew the powers that be or something – I like when my sci fi stories raise questions and don't always provide neat, tidy answers.
Thank you to my husband for the recommendation! If you haven't yet read this book, I definitely recommend it.