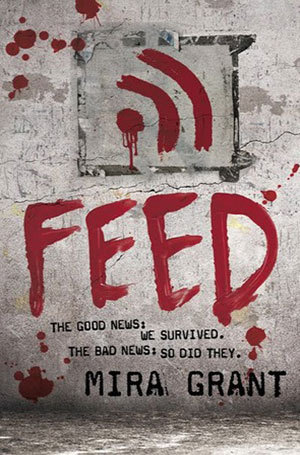 Feed
Series:
Newsflesh #1
Source
Purchased
Published by
Orbit
on April 10, 2010
Rating:

The year was 2014. We had cured cancer. We had beaten the common cold. But in doing so we created something new, something terrible that no one could stop. The infection spread, virus blocks taking over bodies and minds with one, unstoppable command: FEED. Now, twenty years after the Rising, bloggers Georgia and Shaun Mason are on the trail of the biggest story of their lives - the dark conspiracy behind the infected. The truth will get out, even if it kills them.
I've been wanting to read this series for so long, and at some point earlier in the year I purchased the paperback box set, and then of course they sat on my bookshelf for months.
But with Halloween coming up, I've been feeling the urge to read some good paranormal/supernatural, spooky books and this certainly fits the bill!
ZOMBIES! I love reading zombie books and this book started off with a pretty good zombie encounter featuring George, our main character, and her brother Shaun (PS I love that there are so many zombie-themed names in this book: George/Georgia a la Romero, Shaun as in Shaun of the Dead, and Buffy like…well I don't really have to explain that one, do I?!).
There is something about zombies and a zombie apocalypse that I find fascinating to read about and watch on t.v. and in movies. This book takes place around the year 2040, well after the zombie apocalypse has occurred in the United States and changed everything. The author does a good job of explaining the outbreak, rooting it in medical and biological causes, which certainly helped me believe in the world I was reading about.
The world-building was awesome. It was very rich and detailed, although at times it was maybe too detailed for me. I felt myself getting bogged down on occasion with explanations of the political aspect of things or the tech talk, but I do prefer that to stories that are lacking in the world-building area. I definitely felt like I was pulled into George's world as I read, which made me get right caught up in her story.
I thought it was super interesting that bloggers became a more reputable news source than print media during the initial outbreak. George, Shaun, and their friend Buffy run a news blog, After the End Times, and wind up being selected to follow a Presidential candidate on his campaign trail. A few things go wrong and some tragedies occur, and it seems that George and her crew are caught up in a conspiracy that involves murder, terrorism, and zombies.
It took me a long time to read this – my copy was almost 600 pages, and I had to keep putting it aside to read library and review books – but I had so much fun reading this book. The action, the world-building, the characters, the story – it all worked for me. And the end! I was devastated by the end of this book! And since there are two more in the series, I am very eager to see where the story goes next!
If you like well-plotted stories with action, humour, and zombies (and how could you not!), I definitely recommend this book!