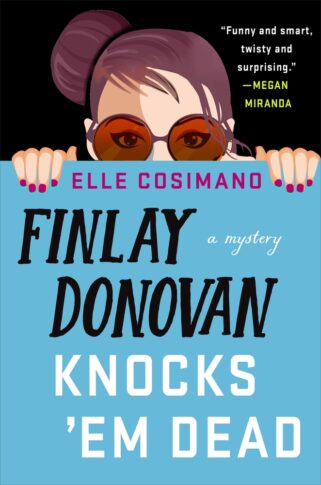 Finlay Donovan Knocks 'Em Dead
By Elle Cosimano Series:
Finlay Donovan #2
Source
Scribd (audio)
Published by
MacMillan Audio
on February 1, 2022
Rating:

Finlay Donovan is―once again―struggling to finish her next novel and keep her head above water as a single mother of two. On the bright side, she has her live-in nanny and confidant Vero to rely on, and the only dead body she's dealt with lately is that of her daughter's pet goldfish.

On the not-so-bright side, someone out there wants her ex-husband, Steven, out of the picture. Permanently. Whatever else Steven may be, he's a good father, but saving him will send her down a rabbit hole of hit-women disguised as soccer moms, and a little bit more involvement with the Russian mob than she'd like.

Meanwhile, Vero's keeping secrets, and Detective Nick Anthony seems determined to get back into her life. He may be a hot cop, but Finlay's first priority is preventing her family from sleeping with the fishes... and if that means bending a few laws then so be it.

With her next book's deadline looming and an ex-husband to keep alive, Finlay is quickly coming to the end of her rope. She can only hope there isn't a noose at the end of it...
I really enjoyed the first book in this series, so I was quite eager to read this sequel!
I listened to both books in this series on audio, and the narrator is pretty good (I think it's the same narrator for both books). But this story didn't capture me as much as book one. I think for some reason this story felt a bit silly to me, with so many suspects and a love triangle I wasn't invested in. I wasn't even that into the mystery, and I found my attention waning frequently, which did not happen in the first book.
I did get more of Vero in this book, which was definitely a good thing, and I will say that the ending sucked me back in so that I'm now looking forward to book three (which will be out early next year). But this was a bit of a letdown for me, given how much I enjoyed its predecessor.