Fire With Fire
By Jenny Han, Siobhan Vivian Series:
Burn For Burn #2
By Jenny Han and Siobhan Vivian
Source: ARC from publisher
Publication Date: August 13, 2013
My Rating: 4 / 5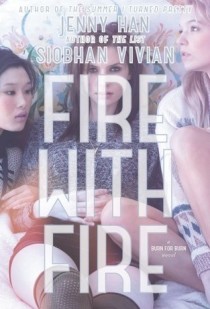 I loved Burn For Burn when I read it last year, and I've been really looking forward to reading this sequel! There will be spoilers in this review if you haven't read Burn For Burn yet.
Here is the Goodreads summary:
Lillia, Kat, and Mary had the perfect plan. Work together in secret to take down the people who wronged them. But things didn't exactly go the way they'd hoped at the Homecoming Dance.

Not even close.

For now, it looks like they got away with it. All they have to do is move on and pick up the pieces, forget there ever was a pact. But it's not easy, not when Reeve is still a total jerk and Rennie's meaner than she ever was before.

And then there's sweet little Mary…she knows there's something seriously wrong with her. If she can't control her anger, she's sure that someone will get hurt even worse than Reeve was. Mary understands now that it's not just that Reeve bullied her—it's that he made her love him.

Eye for an eye, tooth for a tooth, burn for a burn. A broken heart for a broken heart. The girls are up to the task. They'll make Reeve fall in love with Lillia and then they will crush him. It's the only way he'll learn.

It seems once a fire is lit, the only thing you can do is let it burn…
I loved this book! I liked it even more than I liked Burn For Burn (which I loved). It was so nice to jump back into Jar Island and the girls' lives. I again enjoyed the chapters' alternating third-person narratives.
My favourite of the three girls is still Lillia. I love reading about her wardrobe and fancy house! She's the smart, studious, popular one of the three girls, but she has toughened up too thanks to the events of the first book.
Now the three girls have a plan to further mess with Reeve, and it involves having him fall for Lillia so that she can break his heart, the way he broke Mary's. Although Lillia is playing along at first, she does begin to fall for Reeve. And you know what? I was kind of feeling it. I didn't find myself rolling my eyes at the cheesiness of it all like I normally do. I actually really liked the romantic subplots going on here, including whatever is going on between Kat and Alex. I know Alex really seems to like Lillia, but I'm rooting for something to happen between him and Kat, so that Reeve and Lillia can end up together!
Another thing I liked in this book was seeing Kat open up a bit more about her mother's death, and the way the girls had to think about their future beyond high school and make college plans.
MAJOR SPOILERS COMING UP – DON'T READ FURTHER IF YOU DON'T WANT TO KNOW WHAT HAPPENS. GO GET THIS BOOK SO WE CAN TALK ABOUT IT!
Rennie was still a pain in the butt in this book, and I didn't trust her one bit, especially when she started apologizing to Kat. I was not expecting her to die though, and I'm very curious to read about the aftermath of her death in the next book.
Very early into this book, I suspected that Mary was a ghost or spirit. Things were seeming very 'Sixth Sense' to me: nobody talked to her or interacted with her at all, except Kat, Lillia, and her aunt; she didn't touch anything (there were a lot of passages about slipping through doors someone else opened; the scene in the yearbook office where she looked over her shoulder at other people's work; Lillia not hearing when Mary knocked on her door); she didn't eat; I've seen enough Supernatural to know that her aunt's seemingly strange behaviour was because Mary was dead; the descriptions of the house's outer appearance as being so rundown; and that Kat and Lillia never talked to Mary when they tried to call her house. Phew!
Now I want to go back and read the first book, looking for any hints or clues about Mary!
I don't know how other people feel, but as a big paranormal fan, I loved the paranormal element that it brought to the story. Of course, it raises a lot of questions (why can Kat and Lillia see Mary; how come Rennie saw her before she died; is Mary going to hurt Lillia because of her feelings for Reeve) so I'm going to go nuts waiting for the next book! I can't wait to see what happens next!
I definitely recommend this book! If you haven't yet read Burn For Burn, what are you waiting for? Don't you like stories about mean girls, revenge, and ghosts? If you do, you must read these books.