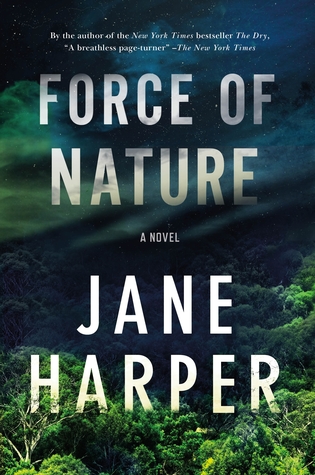 Force of Nature
By Jane Harper Series:
Aaron Falk #2
Source
Library
Published by
Flatiron Books
on February 6, 2018
Rating:

Five women reluctantly pick up their backpacks and start walking along a muddy track.
Only four come out on the other side.
The hike through the rugged Giralang Ranges is meant to take the office colleagues out of their air-conditioned comfort zone and encourage teamwork and resilience. At least, that's what the corporate retreat website advertises.
Federal Police investigator Aaron Falk has a keen interest in the whereabouts of the missing hiker, Alice Russell. Because Alice knew secrets, about the company she worked for and the people she worked with.
The four returning women tell Falk a tale of fear, violence and fractured trust during their days in the remote Australian bushland. And as Falk delves into the disappearance of Alice, he begins to suspect some dangers ran far deeper than anyone knew.
I loved The Dry, the first book in this series, so I was really excited to read this follow-up. I felt like I'd been waiting for this ebook from the library forever, so as soon as I received the notification that it was ready, I started reading.
As with The Dry, I loved the setting. I also thought the mystery was super interesting, and I didn't solve this one!
If you read and enjoyed The Dry, this sequel is a must-read.