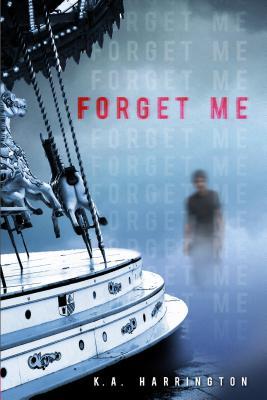 Forget Me
By K. A. Harrington Source
Library
Published by
Putnam Juvenile
on August 7, 2014
Rating:

Cover image and summary from Goodreads:

An edge-of-your seat psychological thriller with a romantic twist

On the three-month anniversary of her boyfriend Flynn's death, Morgan uploads her only photo of him to FriendShare to get some closure—but she's shocked when the facial recognition software suggests she tag him as "Evan Murphy." She's never heard of Evan, but a quick search tells her that he lives in a nearby town and looks exactly like Flynn. Only this boy is very much alive.

Digging through layers of secrets and lies, Morgan is left questioning everything she thought she knew about her boyfriend, her town, and even her parents' involvement in this massive web of lies.
I was really intrigued by the premise of this book, and I was drawn in by how quickly the story moved and set up the mystery.
The story was so good and the additional elements of the mystery (e.g. Morgan's parents being so secretive) tied together nicely. I also liked most of the characters, especially Morgan's best friend, Toni. And the mystery turned out to be not what I thought, which was refreshing!
BUT if there's one thing that really didn't work for me in this book, it was the romance between Morgan and Evan. I just could not buy into it.
Overall, this was a fun read with a good mystery. I didn't love it, but I had fun reading it. Recommended.