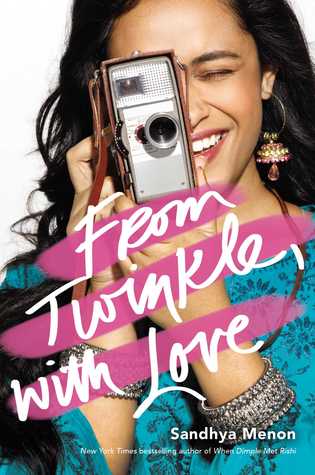 From Twinkle, With Love
By Sandhya Menon Source
Library
Published by
Simon Pulse
on May 22, 2018
Rating:

An aspiring teen filmmaker finds her voice and falls in love in this delightful romantic comedy from the New York Times bestselling author of When Dimple Met Rishi.

Aspiring filmmaker and wallflower Twinkle Mehra has stories she wants to tell and universes she wants to explore, if only the world would listen. So when fellow film geek Sahil Roy approaches her to direct a movie for the upcoming Summer Festival, Twinkle is all over it. The chance to publicly showcase her voice as a director? Dream come true. The fact that it gets her closer to her longtime crush, Neil Roy-a.k.a. Sahil's twin brother? Dream come true x 2.

When mystery man N begins emailing her, Twinkle is sure it's Neil, finally ready to begin their happily-ever-after. The only slightly inconvenient problem is that, in the course of movie-making, she's fallen madly in love with the irresistibly adorkable Sahil.

Twinkle soon realizes that resistance is futile: The romance she's got is not the one she's scripted. But will it be enough?

Told through the letters Twinkle writes to her favorite female filmmakers, From Twinkle, with Love navigates big truths about friendship, family, and the unexpected places love can find you.
This was delightful! I loved the author's previous book, When Dimple Met Rishi, but I think I liked this one even better.
I loved Twinkle and Sahil. I laughed out loud several times. The romance was sweet, and the subplot about Twinkle's relationship with her mother was moving.
I also liked that Twinkle's friendship with Maddie was central to the story, but Maddie's behaviour (and Hannah) infuriated me at times.
Fun, funny, and sweet – this is a great YA romcom, and I can't wait to read Sandhya Menon's next book!